The best place to turn for expert recruiting tips are from — well — recruiting experts.
Think about it: Who better to get in-depth insights and advice from than those who have already "walked the path" you and your talent acquisition team are looking to take soon?
Recruiting tips for small businesses: 10 ways to elevate your talent acquisition approach
So, let's dive right in. Here are 10 of the top recruiting tips from TA pros who regularly help their SMBs outcompete larger employers for potential candidates and scale their companies.
(Translation: Proven recruitment tactics we've seen SMBs with Lever implement over the years to streamline and speed up their hiring process and sign more top talent.)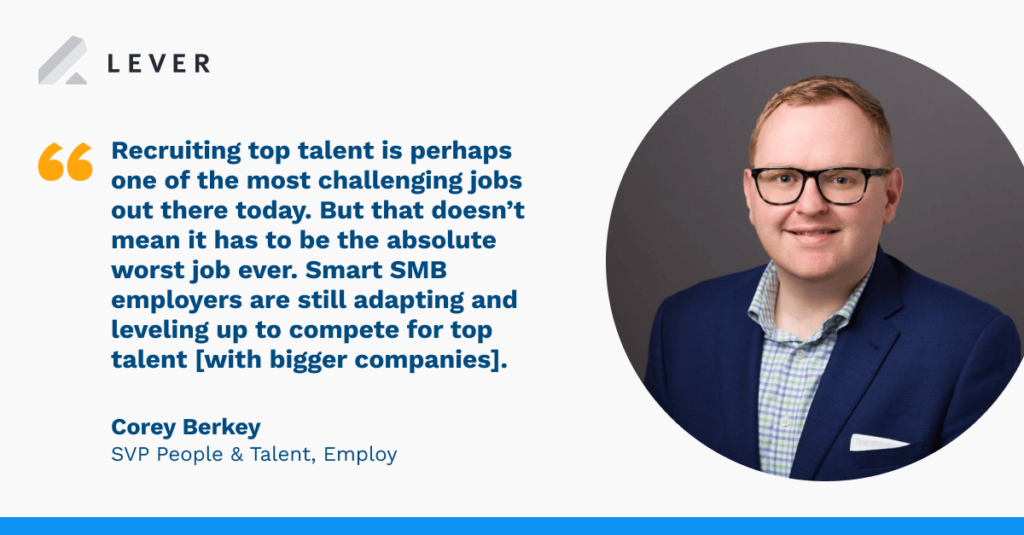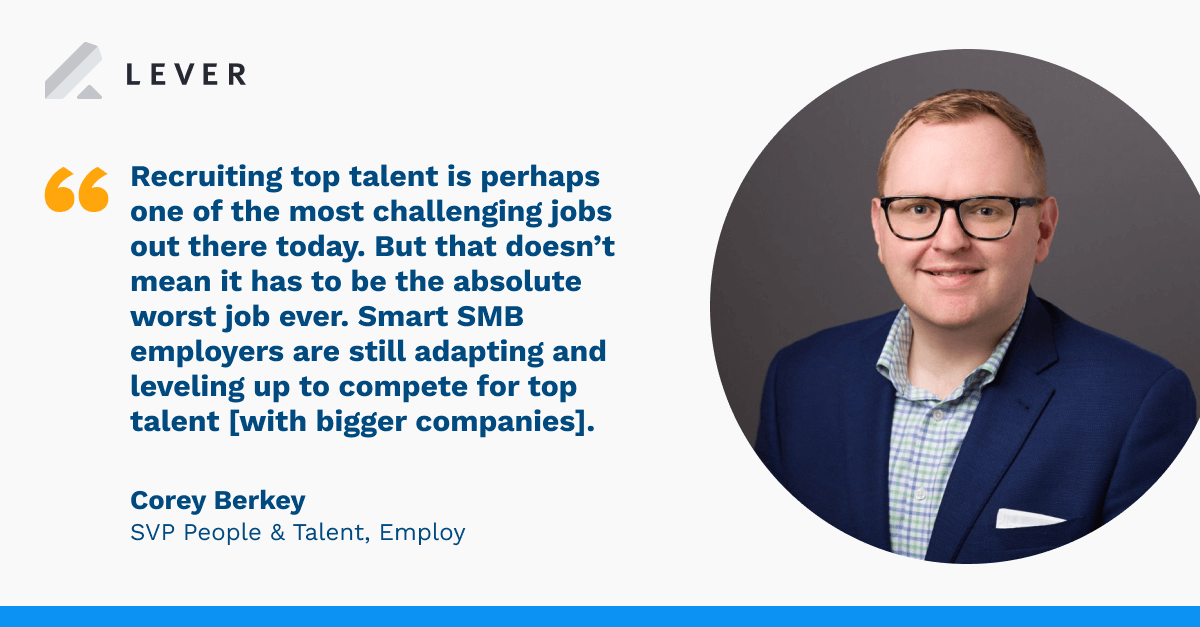 1) Assess each part of the recruitment process
"Smart SMB employers are still adapting and leveling up to compete for top talent," Employ SVP People & Talent Corey Berkey recently wrote in a guest post for Spiceworks.
In other words?
Small businesses continue to assess and enhance areas of their TA processes (sourcing channels, nurture approaches, interviewing techniques, etc.) to ensure they constantly improve their recruiting output and, in turn, help hire top talent who can help their org thrive.
In terms of the recruitment technologies utilized by your talent specialists, it's worth evaluating whether those systems and tools actually help your team work smarter and faster.
"Plugging gaps in your talent acquisition tech stack can increase the speed and efficiency of your hiring process … [and improve] the quality of your candidate pipeline," per Corey.
2) Evaluate (and optimize) your job descriptions
It's not just the "big" parts of your recruitment process you need to gradually improve over time. You also need to pay close attention to — and steadily enhance — the nitty-gritty tactics.
Does your data show a high number/rate of clicks of your job posts but not nearly as many application completions as you prefer? That's likely a sign your impact descriptions need work.
Making job descriptions stand out from other employers and compel active candidates to complete the entire application process is an art and science.
Once you review historical data for postings, you can test out new descriptions for certain roles and/or teams that seem to merit them (i.e., for ones that receive few submissions).
Even seemingly "minor" changes can have a major positive impact on conversions.
Just be sure to get sign-off from hiring managers on any substantial changes you make. The last thing you want to do is to accidentally delete or change a key part of job descriptions people managers feel is crucial to explaining the core duties or desired impact for a role.


3) Audit the "success rate" of job boards you use
Sometimes, it's not postings or descriptions leading to low conversion rates.
Often, it's where you publish said posts. That means it's critical to determine the effectiveness of job boards and social media channels where you feature and promote openings.
The default thinking for many small business talent teams today is "LinkedIn is our go-to source for applicants." And that may very well be true.
But, to stick with just one channel as your main applicant generator is foolish — especially if your data shows other avenues yield many applicants too.
Constantly try and test new job boards to see if any non-LinkedIn options help bolster your talent pool with active job seekers who are strong fits for open positions.
If they don't, so be it. However, if they do, you have other viable and lucrative sources you can turn to often to aid with your talent org's collective pipeline growth.
4) Learn what today's job seekers are looking for
More than half of job seekers (52%) cited career advancement opportunities as the main reason for looking for new work, per recent Employ research.
Another 45% of professionals said they want flexible work options in their next role, while 31% wanted better corporate leadership from their next C-suite.
Reasons for a job search vary greatly and don't just involve these two areas.
That makes it vital to use labor market and candidate insights to best identify potential employees in your proactive sourcing efforts and ensure job postings get in front of your ideal candidate profile (ICP).
(That is, those with the ideal traits and skills you look for in hires.)
One way to discern what job seekers want today is to simply ask them during screening calls.
That way, you can ensure only individuals who align with the specs of a posting move on to the interview process and poor-fit prospects aren't advanced in your org's recruitment funnel.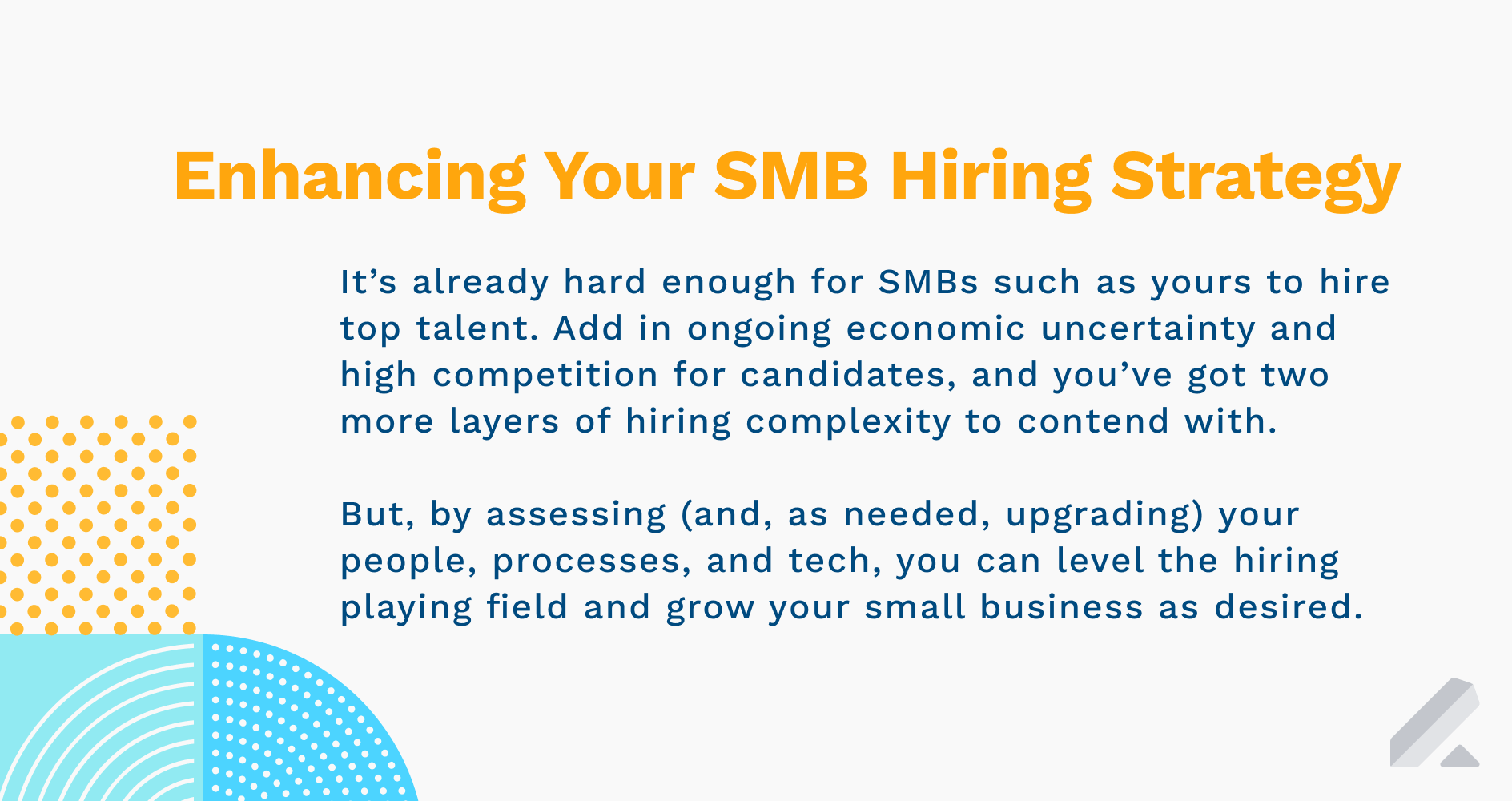 5) Ask prospective employees unique questions
For those folks who do make it to the next stage of your recruiting process, be sure to ask them structured interview questions (i.e., the same ones for each candidate) so you can make an apples-to-apples comparison of each individual and grade/rate them appropriately.
Just because there's a formal structure to your interviewing approach doesn't mean you can't (or shouldn't) get creative with the types of questions you ask.
Work with hiring managers to develop a list of role- and team-specific questions relating to real-life, on-the-job scenarios.
By doing so, you can gauge how prospective hires would perform in certain situations.
Can they handle the pressure of a given role and meet deadlines regularly? Did their answers regarding a certain work-related approach align with that of the hiring manager's?
These answers to your hiring team's structured interview Qs reveal a lot about how strong a fit a person would be for not just the business unit they'd join, but for your SMB at large.
6) Get employee referrals from your workforce
When 84% of talent teams at companies of all sizes say employee referrals are one of their top recruitment sources today, you know it's a fruitful sourcing approach to leverage.
The issue for many businesses looking to secure referred candidates from their employee base is incentivization. After all, staff members are already putting 100% into their actual day-to-day work. Asking workers for help on the hiring side may not appeal to much of one's workforce.
That's where referral bonuses can help. Work with your C-suite, HR function, department heads, and team leaders to determine what an ideal (and feasible) number is for your org.
Some brands offer $500 for hires that stick around at least three or six months. Depending on the size and hiring needs of your org, that figure and timeframe may need to differ.
The point is a "reward" for your workforce to persuade them to aid your TA efforts is essential.


7) Refresh and remove interview process stages
You'd be surprised how one-too-many interview steps can lead to a high candidate exit rate
For instance, if you have different interview panelists meet with candidates separately (i.e., in two or three different calls as opposed to one group call), that needlessly lengthens your recruitment process and, thereby, increases the odds of job seekers walking away.
Given you're a small business, chances are your particular interview process isn't nearly as long or complex as those for scaling companies and large enterprises. That being said, it never hurts to look for ways to upgrade various parts of your recruiting efforts.
One key way to learn whether your interviewing approach needs tinkering is to send candidate experience surveys after each interview cycle.
Previously engaged prospects have no reason to lie to you, so ask them questions about whether they thought your interview process was enjoyable or requires some changes.
Some prospects may want shorter "breaks" in between different interviews. Others may think the post-assessment chat lasted an hour too long. Whatever comments prior candidates share with you, factor them all into adjustments to your talent acquisition approach.
8) Build clearly defined SLAs with hiring managers
Service level agreements (SLAs) are typically created at big businesses, not necessarily SMBs. However, it's always good to set clear expectations between managers at your business looking to fill key roles (and quickly) and the recruiters who are assigned said requisitions.
"Service-level agreements have proven to be one of the most effective ways to improve recruiting results, increase recruiting consistency, and, at the same time, strengthen the relationship between recruiters and hiring managers," HR expert John Sullivan told SHRM.
The key to creating reasonable and fair SLAs that both hiring managers and talent/HR leaders at your org are happy with is to clearly lay out their preferences.
People managers should note the desired amount of time it should take to fill certain positions and how many active and passive candidates they think TA should add to their talent pool for each role.
Your recruiting org, on the other hand, should point to your analytics to show how long it typically takes to go from interview to offer for certain jobs and teams across the business as well as how many "opportunities" (i.e., strong-fit candidates) they typically generate per opening.
Only when both sides of the hiring equation are honest and transparent with one another can you can realize your desired level of growth and bolster your workforce with top talent.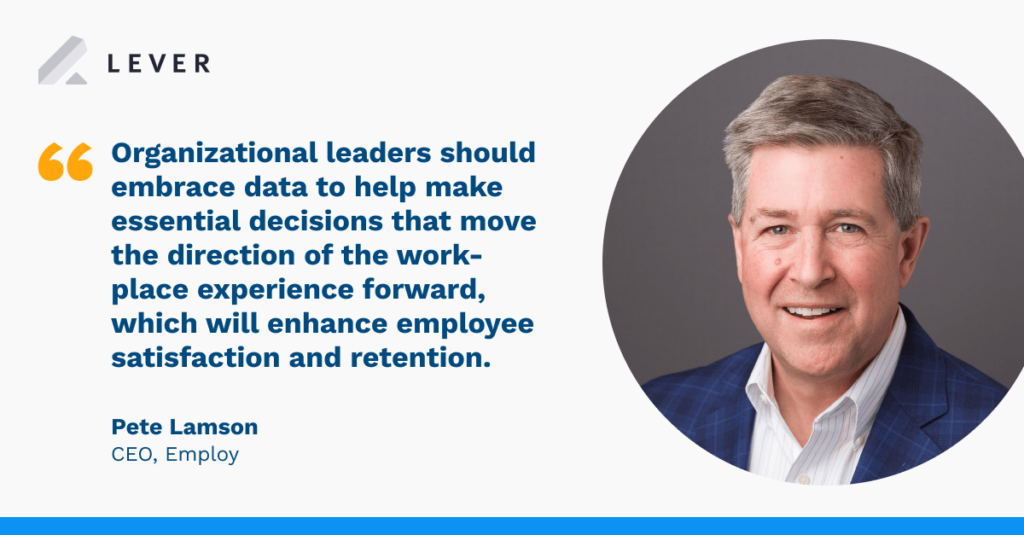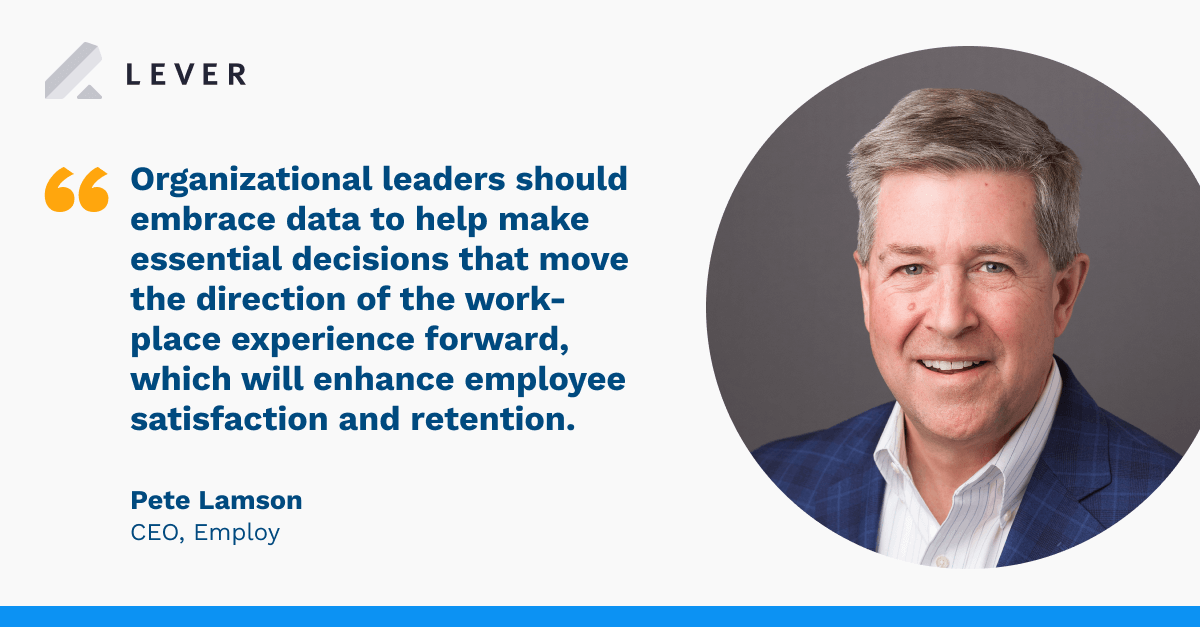 9) Liaise with HR leadership on employer branding
This may not seem like it should fall under the category of "recruiting tips." That said, don't underestimate the importance of constant communication and collaboration with HR.
Analyzing the state of the work environment. Creating initiatives to enhance the company culture. Combing over ratings and feedback from employee Net Promoter Score surveys.
Your HR team has a lot on its plate, when it comes to making work easier for your staff.
But, one task that can't be overlooked is your employer brand — something that can affect the efficacy of your recruiting efforts considerably.
Mainly, it impacts your ability to entice active candidates to apply.
"Investing time in your employer brand now will let you reap the rewards down the road," Corey recently wrote for Recruiter.com. "By creating a cohesive employer brand, you'll attract a more targeted group of candidates, allowing you to decrease your time to hire as you scale."
10) Share data and insights with your leadership
Data-driven recruiting isn't solely intended for mid-market and enterprise orgs. Countless small businesses utilize talent analytics today to drive their hiring decision-making.
Put plainly, your SMB is no different. That means ensuring your TA team's tech stack includes an applicant tracking system with out-of-the-box analytics each recruiter can use with ease.
That is, you need an ATS that has intuitive dashboards that reveal rich insight into things like:
Where each currently engaged opportunity resides in your talent pipeline (e.g., Lead, Screen)
What job boards and career communities generate the highest volume of active candidates
How quickly the average job prospect moves from one recruitment funnel stage to the next
Spreadsheets are clearly not the answer for today's small businesses. But, the same can be said about traditional ATS solutions. That's because these static databases that require manual updates sap the resources and energy your recruiters need to build and manage relationships with talent and ensure they advance "top-choice" candidates in a timely and efficient manner.
Conversely, with a powerful yet easy-to-use applicant tracking system with CRM capabilities built in — like Lever — you can make significant strides with your full-cycle recruiting efforts and ensure your hiring team is as productive and collaborative as possible.
Speak with a Lever rep today to learn how your SMB talent team can use our ATS to elevate their recruiting performance and better attract, engage, and convert qualified candidates.