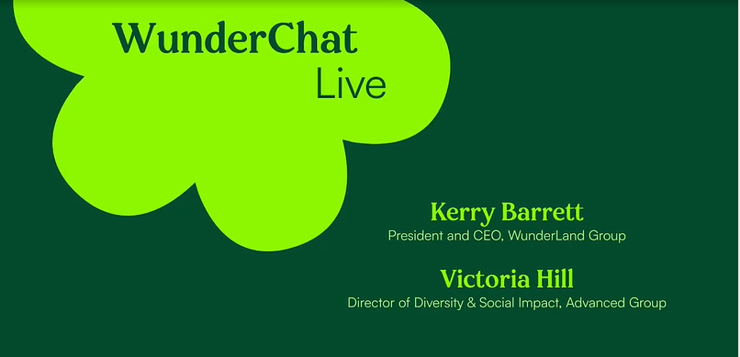 Have you ever heard Diversity, Equity, and Inclusion (DEI) be compared to having dinner with your family? Intriguing, am I right? Well, that's exactly what Victoria Hill, the Director of Diversity and Social Impact of Advanced Group does in our latest WunderChat Live. 
In this crucial conversation, Victoria and WunderLand's CEO and President, Kerry Barrett, dug into the most critical aspects of DEI. As an established leader, teacher and engaged doer, Victoria cultivates collaboration and true workplace transformation. 
If you missed the conversation, you can watch the event here or keep reading for a quick recap. 
Diversity, Equity, and Inclusion are well-established priorities for companies today. The DEI acronym has planted itself on the homepage of websites and social posts alike. It is easy to preach and highlight in photographs… but what does it really mean 'in real life?' And how can we truly transform our workplaces to be inclusive and diverse?
If companies want to put DEI into action, there are some simple places to start. While it will look different for every organization, these are some tried and true methods that have worked for Victoria at Advanced Group.
Take an honest look at anyone who doesn't have a voice right now, then bring them to the table and listen to what they have to say. 
Create diversity in leadership, when possible. You can also offer mentor programs and look at diverse employees' career growth and plans. In order to practice what you preach, you need to start from the top down. 
Put your money where your mouth is. Spend the money externally and internally. Some things that have worked for Advanced Group:

Advanced Group offers a program where employees can visit minority-owned businesses and the company will reimburse them. This encourages our employees to be conscious of DEI in and out of the workplace and also gives them the opportunity to support the initiative on their own time.
Internally, invest in the programs, training, and technologies needed to create successful DEI initiatives and growth.

Having different points of view leads to better critical thinking. This doesn't just happen, however. Companies need to make this a point and seek out players who bring something different to the table. Where do you start? With conversations and understanding. Create relationships with employees, understand their backgrounds and situations, and find the diversity of thought. 
Know there is no end in the DEI journey. DEI needs to be embedded into the culture. You can do this through training, safe conversations, and through tactics that SHOW there is a safe and inclusive culture. If we didn't do things to show our DEI initiative and understanding, then people wouldn't know they exist. 
Make small goals. You can't save the world that quickly. Focus on small steps, celebrate the wins, and then keep going. 
Be consistent and persistent. Hosting a training doesn't embed anything. It's the follow-up, repetition, and action that create a culture. 
Meet people where they are and let them be there. You can't force someone to change their ways, you just have to show them again and again that there are other ways.
Gain buy-in from stakeholders. This doesn't mean just the CEO, but everyone in the company – accounting and finance, marketing, HR, IT. Everyone plays a role so make sure you find the sweet spot of key players so they can join you in your initiatives and planning.
Let people fall in love with DEI. A safe space is an easy thing to love. If you're consistent, open, understanding, and listen, eventually people will see this and want to be a part of it.
To all of those trying to create inclusive and safe cultures, we applaud you! To learn more about what we are doing at WunderLand you can visit our website. If you'd like to find out more from Victoria, you can connect with her on LinkedIn.