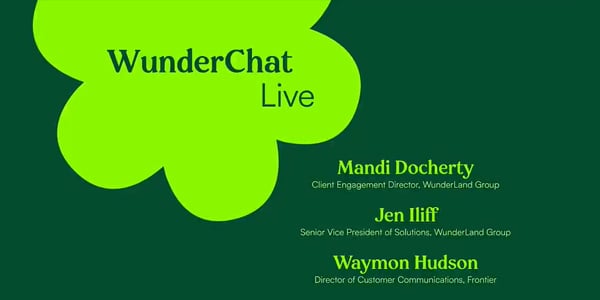 The economic climate is complicated, but getting great work done doesn't need to be. In this month's WunderChat Live, WunderLand's Mandi Docherty and Jen Iliff join Frontier's Waymon Hudson to discuss some of the ways they approached tough challenges and how they work to find creative solutions. 
If you missed the live event, you can watch it here. Don't have time? Check out our top three takeaways below. 

Talk proudly and loudly about your challenges. The number one place to start finding the right solution is acknowledging and sharing the challenges. No one is expected to know everything and have all the answers. Being able to discuss pain points is a sign of strength. By talking about challenges, it allows solution-seekers to look at the bigger picture and find long-term helpful resolutions instead of quick band aids.

Don't be afraid to ask. The worst thing a partner or agency can say is "no."

Find a partner that can grow with you. Sometimes off-loading the work seems like more work than the actual job itself. If you find a partner that can grow with you and stay in lockstep, then getting them up to speed on projects or outsourcing the work can be streamlined.

The keyword here is partner. A partner is meant to be a constant support. Someone to brainstorm with, bounce ideas off and consult with no judgement. Don't just find a place that has a quick fix. Find yourself a partner who is invested and trusted!

Get help when you need it. There are big jobs and small jobs; and sometimes you need help on one or both. No task is too small when it comes to workforce solutions. Whether it's a one-off need like copywriting for an asset or a full re-brand, there are simple ways to help unload some of the burden to partners whether through managed projects, studio or traditional staffing.
If you are looking for a creative solutions partner, lean more about WunderLand at our website or connect with Mandi on LinkedIn.