Diversity hiring practices at growing and large-scale organizations have (thankfully and rightfully) evolved over the last decade, thus ensuring the development of a more diverse workforce and equal opportunity for employees.
But, the work associated with identifying, engaging, hiring, and empowering diverse employees never ends. And professionals know more work must be done by their employers.
A 2023 Pew Research Center survey found 61% of workers believe their business has policies in place that ensure fair hiring processes and opportunities for raises and promotions.
A sizable number of employees, for sure.
However, it also means two in five employees think their orgs could (and should) do more to employ and advance diverse talent — notably women, non-binary individuals, people of color, and those in other historically underrepresented groups.
This begs the question: What can your business collectively do to better prioritize diversity and inclusion to hire more qualified candidates from various backgrounds?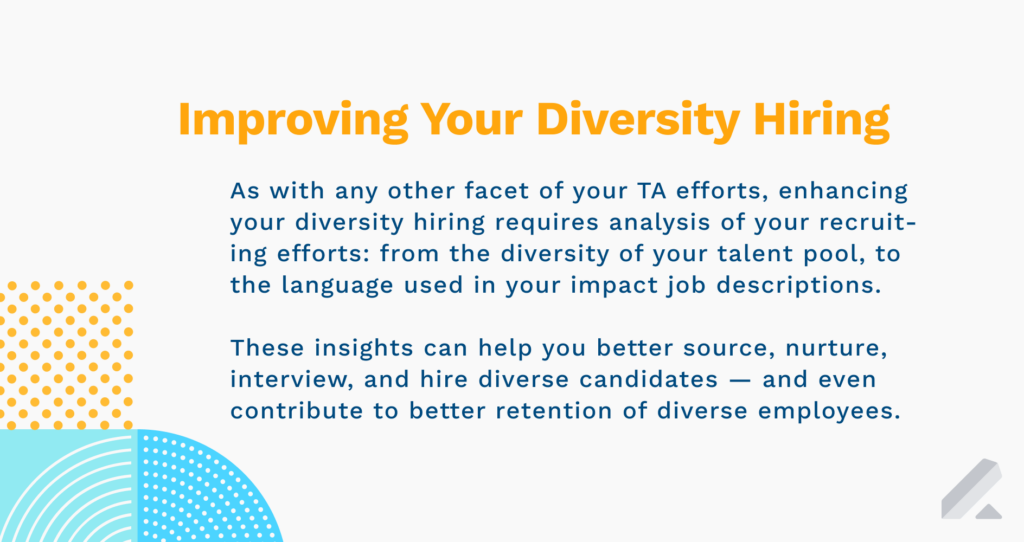 Why diversity hiring is so important today
We as a society are well beyond the need to make the case for increasing the diversity of one's workforce. That said, if you needed more evidence to show just how crucial diversity hiring is to your company's growth and success in the years ahead, look no further than these stats:
Knowing these stats and sharing them with leadership is certainly helpful to making advancements with diversity hiring. But, it's more vital to work with your C-suite, HR leaders, and people managers to develop a tangible action plan to onboard more diverse talent.
"Business leaders cannot simply say they want to create diversity and expect a wide range of candidates to magically line up at their door," Forbes Human Resources Council member Miranda Collard recently wrote.
"Without intention, employers could end up with the one-dimensional workplaces of the past."
How employers continually revise their recruitment process to achieve diversity hiring goals
Arguably the best place to turn to for advice and insights into how to find more diverse candidates and convert those job seekers into new hires is to look at the diversity hiring strategies implemented by leading brands today.
Here's how you and other hiring decision-makers at your org can work together to refine your sourcing, nurturing, and interview processes and ensure you can consistently reach out to, speak with, extend job offers to, and sign on diverse talent to join your growing business.
Determine if any unconscious bias is present in recruiting and hiring
Employee Experience Magazine report Fatjona Gërguri put it perfectly in a recent article: Unconscious bias "operates like a blind spot that influences our perceptions about specific groups without us even realizing it."
Auditing every minor and major recruiting-related activity can help you discern whether any form of bias exists among stakeholders tied to your hiring process and related steps.
For instance, watch out for affinity bias by combing over candidate scorecards and feedback forms submitted by interview panelists and hiring managers recently.
This will help you find out if any hiring team members show favor to any prospects that may be similar to them in terms of background, personality traits, race, age, or gender.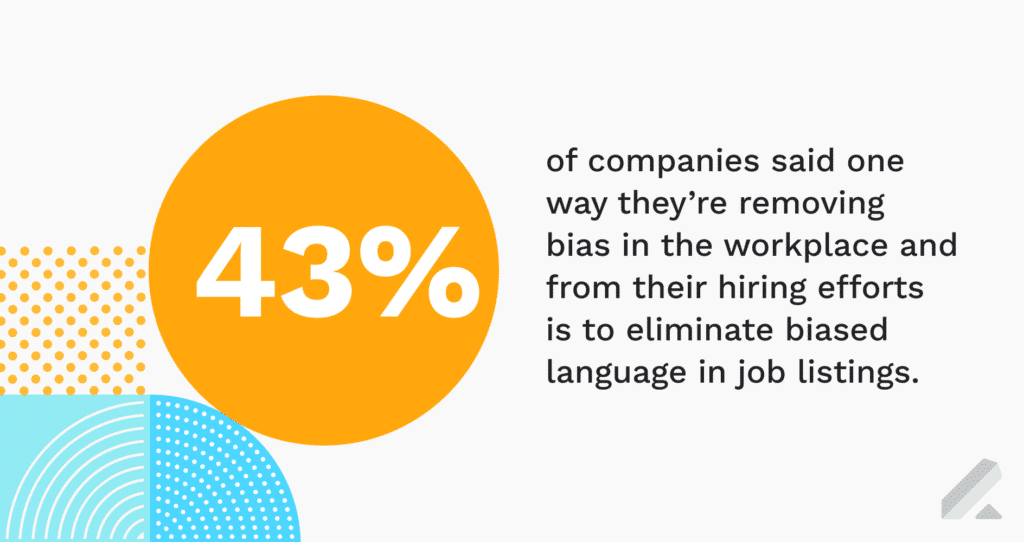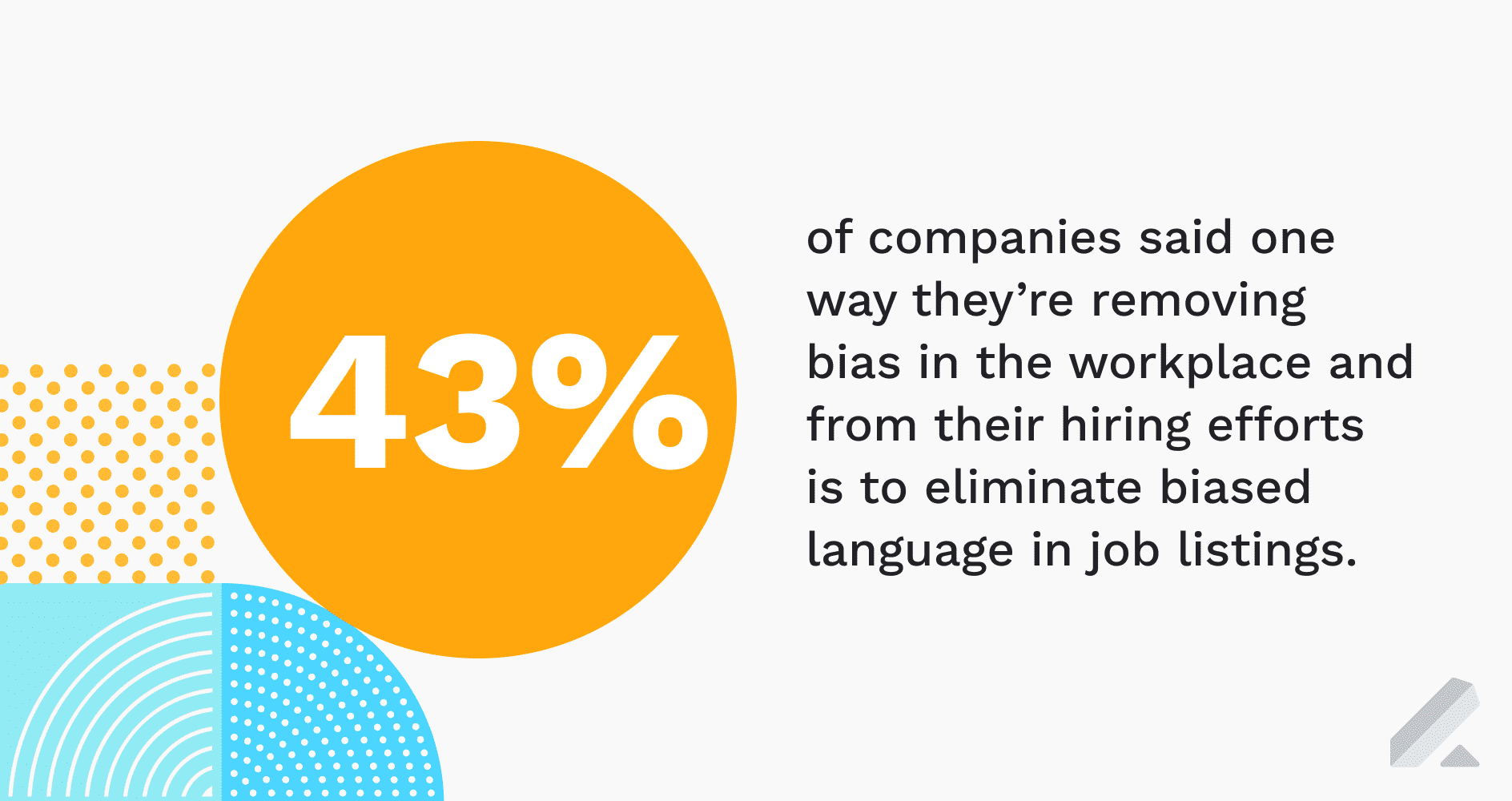 Evaluate the kind of language used in all impact job descriptions
Nine in 10 employers have revisited language used in their job descriptions to ensure they used solely inclusive language that appealed to all candidates and didn't make any prospects feel excluded, our 2022 State of DEI report found.
Consider ageism. There are certain terms and phrases tied to available openings that may deter older diverse candidates from wanting to apply to a role at your business.
Organizational psychologist Gena Cox told HBR how "language related to ageist stereotypes in job [ads], such as 'must be a digital native,' has been linked to discriminatory practices because it defines the current generation of millennials and Gen X, but not Baby Boomers."
Spotlight diversity hiring and related DEI efforts in marketing assets
Active job seekers not only look for info tied to role-related duties, compensation, and reviews by current and former employees when evaluating prospective employers. They also check on their DEI-related initiatives and efforts.
Our 2022 DEI report found 81% of job candidates investigated a company's website to discover their stance on diversity, equity, and inclusion before applying for an open position.
The more you properly showcase your progress as it pertains to DEI in recruitment marketing assets, job descriptions, and your brand site, the more you can capably appeal to prospective hires of varying backgrounds and prove you truly care about not just hiring diverse candidates, but also setting them up for success and engaging them to create a strong company culture.


Share insights into how diverse employees advance internally
If you have a coordinated career mobility program in place, you should shout about it — and your employees' satisfaction with it — from the (digital) mountaintops.
(Read: On your website, in job postings, and in recruitment marketing collateral.)
This is especially true if your business has a proven track record of upward mobility with diverse staff members. (Including with executive roles.)
That's something practically all job candidates, diverse and otherwise, want to see when looking for new work, given not every org looking for new employees excels in this respect.
A video highlighting success stories in terms of talent mobility is a good place to start. You can publish said video to your social channels, about us page, and careers page to show you care about employees' internal development.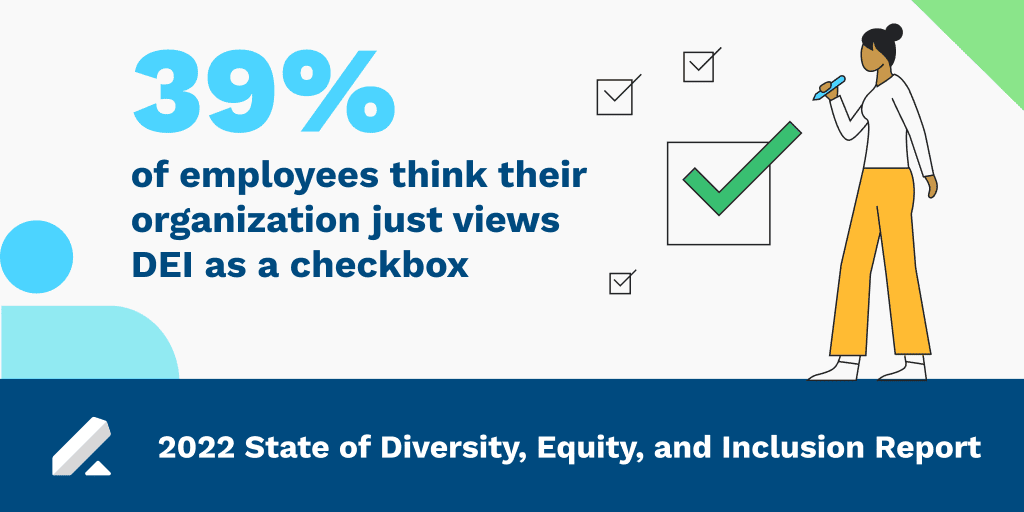 What your company can do to make further headway with diversity hiring in the years ahead
The tactics and approaches above are certainly one worth incorporating in your diversity hiring strategy. But, remember: Each organization has distinct DEI goals tied to their overall business objectives, so those must be factored in when adjusting your diversity hiring efforts.
That said, the blueprint above offers a guide, of sorts, that can help you make the necessary modifications to your DEI hiring efforts. The best place to start is to:
Liaise with leadership and your DEI committee to analyze the current state of your diversity hiring efforts by compiling recruiting and hiring data.
Work with DEI and HR team members to analyze said data and list any positive and negative trends and patterns that may help them get a clear picture of your TA efforts.
Develop an action plan to address the aforementioned areas and empower talent team members to better source, nurture, interview, and advance diverse prospects.
Once these boxes have been checked and true, company-wide alignment on how to best build a more diverse workforce is in place, your business will be in prime position to make further progress with your diversity hiring — and, thereby, realizing your org's target growth goals.
LeverTRM empowers talent teams to build scalable and sustainable hiring strategies. Chat with us today to learn how our ATS + CRM can enhance your diversity hiring efforts.