We're always looking for ways to handle our day-to-day quicker and better. And tracking your staff's time off is no exception.
If you're relying on Excel to get the job done, a free employee PTO tracker template will definitely help you one step in the right direction. But that doesn't take away that manually tracking time off in Excel is downright time-consuming (at least according to 93% of Excel users) and prone to mistakes (with around 88% of Excel spreadsheets having errors).
Luckily using Excel isn't your only option. The right digital employee time off management app will truly make tracking your team's PTO and vacation days simple, quick, and integrated with your day-to-day business operations.
The Downsides of Manual PTO Tracking 
While tracking time off is key to managing your workforce effectively, many businesses still use time-consuming and error-prone manual methods to get the job done. 
Using Excel PTO tracker templates is one step toward making this task easier. However, ultimately, it is highly recommended to use a digital PTO tracking method, and here's why:
Handling PTO digitally is faster than any manual method, with or without templates. This way, users can submit time off with just a click, which you can approve or deny, process, and document just as quickly and easily.
Digital PTO management methods help ensure precision. The whole PTO management process is handled through and recorded on a digital database without room for human error.
Digital PTO systems typically offer additional features and advantages. PTO trackers are often part of a larger employee management package that allows you to streamline your daily operations, such as employee scheduling, time tracking, and managing payroll.
Digital PTO tracking software gives you more transparency and oversight. As you manage more employees, the ability to view their PTO at a glance becomes more important. While the impact of Excel templates is small, digital PTO trackers make a massive difference by allowing you to quickly sort data, review previous pay periods, filter by employee, and more.  
How to Choose a Digital PTO Tracker
Undoubtedly, digital PTO and vacation trackers have a huge advantage over any manual method. But with many different options and feature sets out there, how do you choose the right one?
When looking for one that will best streamline and simplify your day-to-day, keep an eye out for the following three features:
Employee accountability: This motivates your staff to manage their time more effectively while on the job, reducing the impact of PTO on the bottom line.
Payroll streamlining: This allows you to automatically record accurate data onto digital timesheets, including overtime and time off calculations, ready for processing payroll.
Employee scheduling: This allows you to easily create better work schedules for your employees, enabling them to get enough rest without using PTO.
Connecteam is an all-in-one employee PTO and vacation tracker that gives you everything you need to receive, manage, and document your team's absences with complete ease and efficiency, even while on the go. 
Its powerful features include time off management, time tracking, automated timesheets, and payroll integrations. Connecteam furthermore offers excellent customer support, an intuitive user experience, and high customizability, allowing you to tailor the platform to your exact business needs.
Let's take a closer look at Connecteam's time off management capabilities and how you can use them to streamline your day-to-day.
Time off management
Connecteam allows you to set up and manage your company time off policies for any type of absence – paid or unpaid – by choosing from various policy templates or creating your own. 
Your employees can submit absence requests right from the mobile app. Based on your preferred settings, you can either manually accept or decline requests or have the system do this for you automatically. 
The app will then calculate and process the absence according to your defined policies, notify the employee of the status of their request, and record the process. This relieves you from any back-and-forth, complex manual calculations, or scattered operations. 
You can oversee and manage everything from one centralized dashboard as an admin. And, of course, you can always quickly connect to your employee timesheets, scheduler, and any other employee management feature within the Connecteam app to fully streamline your workflow.
Time tracking
Beyond tracking time off, Connecteam's GPS time clock allows your employees to clock in and out from shifts or jobs with one simple tap right from the app. This feature allows you to track time from any job site and ensure your employees are exactly where they need to be while on the clock using GPS tracking capabilities.
Automated timesheets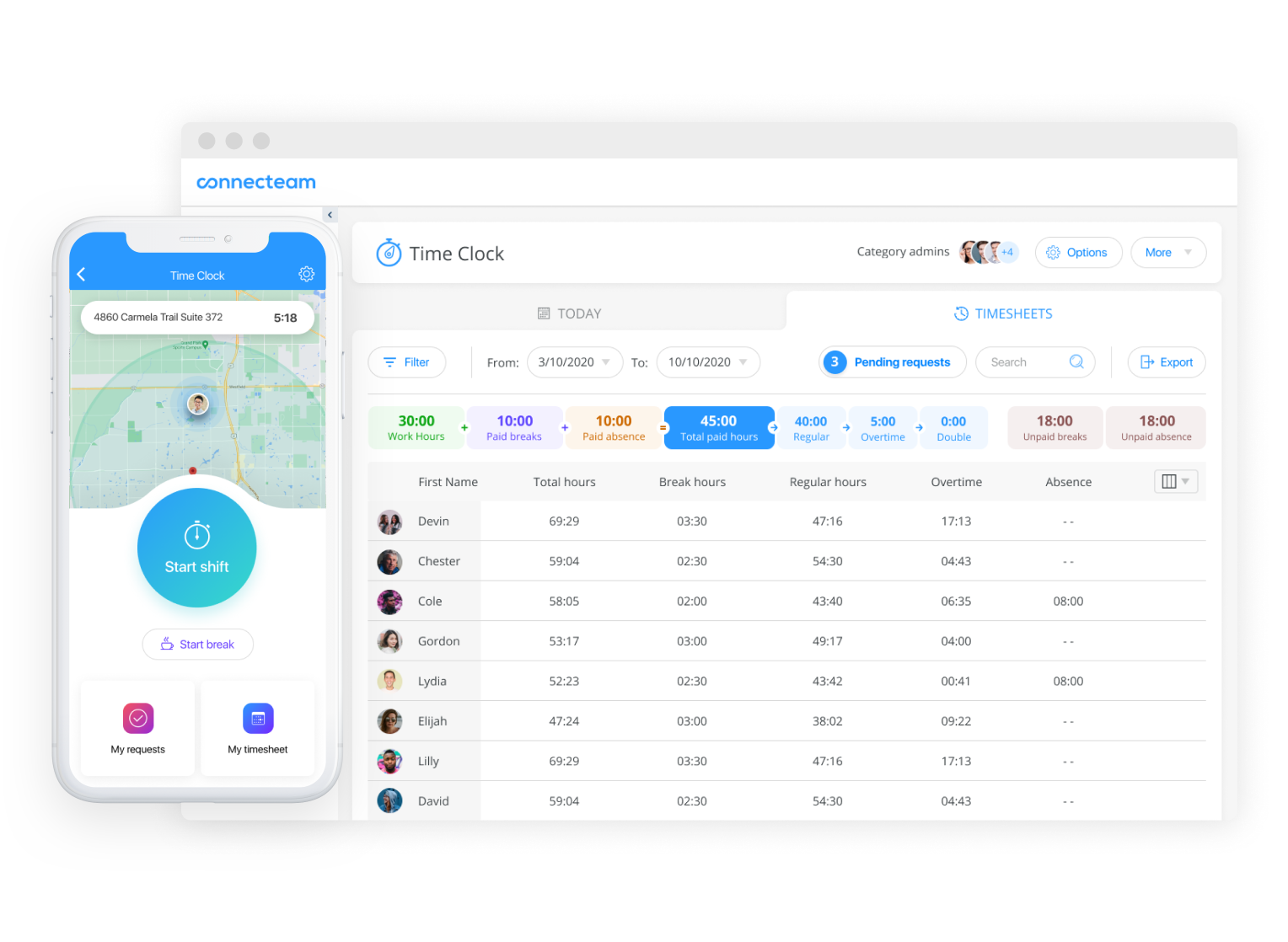 All tracked hours are automatically recorded onto digital timesheets. Here you can easily view and review all logged data, including total work hours per day and payroll period, time off, overtime, and employee wages. The app also flags any irregularities, allowing you to easily spot and correct potentially costly payroll mistakes. 
From the app, your employees can access their timesheets, request edits, and send in their approval before you process payroll. 
Payroll integrations
When ready, you can simply export timesheets directly to your payroll software or use one of Connecteam's payroll integrations: Quickbooks and Gusto. This allows you to skip the entire manual process, saving you valuable time and effort.
PTO & Vacation Management Made Easy
Have all the tools to track, manage, and document your team's time off from anywhere with one all-in-one app.
5 Excel PTO Trackers 
TrumpExcel's Free Excel Leave Tracker Template
This free employee PTO tracker Excel template was apparently created to provide a team member with a better alternative than a simple Gantt chart in for tracking PTO in excel. It allows you to track monthly and annual leaves per employee.
Download the template here.
Leave Monitor's Free Vacation Tracker Excel Template
LeaveMonitor's free vacation tracker Excel template makes tracking vacations more manageable. The spreadsheet gives you an overview of when employees are off, which helps you better manage vacation requests and ensure that not too many people take time off simultaneously.
Download the template here.
Vacation Tracker's Free Excel Vacation Tracker Template
This free Excel employee vacation tracker template aims to help you track and manage leaves for up to 20 employees manually. Leave is divided into deductible and non-deductable leave to give you a more transparent overview.
Download the template here.
ClockIt's Free PTO Tracking Template
ClockIt's free employee PTO tracker Excel template allows you to mark days different types of leaves, such as sick days, vacation time, or maternity leave. The spreadsheet shows public holidays and can be adjusted based on your company's PTO policy.
Download the template here
Indzara's Leave Tracker & Vacation Tracker Excel Template
With Indzara's leave tracker Excel template, you can track partial and whole days of sick leave and vacation for multiple employees in a calendar view. It also allows you to calculate their attendance and print an annual report.
Download the template here. 
Bottom Line on PTO Tracking Templates vs PTO Tracking Software
While free employee PTO tracker templates can be a familiar go-to solution for some business owners who rely on Excel in their day-to-day operations, this manual method is nevertheless time-consuming, error-prone, and difficult to manage. 
On the other hand, PTO tracking software makes leave management easy, quick, and precise, freeing you from unnecessary back-and-forth, complicated manual calculations, or scattered processes. Connecteam's top employee leave management app, for instance, offers exceptional leave management features, an intuitive user experience, fair pricing, and excellent customer support to back you up at any time.
The #1 Employee Leave Management App
Set up time off policies, handle employee absence requests, calculate time off automatically, and more – all with one easy-to-use app.