Many talent acquisition leaders agree the best way to create your annual recruitment plan is to learn what did and didn't work with your last recruitment strategy.
These TA leaders recommend conducting a retrospective that covers high-level metrics and progress (e.g., overall recruitment budget spent, hiring plan goals met) and more specific objectives (e.g., candidate experience ratings, social media job ad engagement).
Lever Director of Recruiting Caitlyn Metteer mentioned how analyzing your hiring team's sourcing, nurturing, and interviewing efforts from the last calendar year is the best way to improve your recruitment model and hiring process next year.
"Assessing your recruiters' efforts to convert potential candidates into new hires can help you refine your team's recruitment process, address any hiring manager issues, drive down cost per hire, and ensure your headcount grows to meet your business needs," said Caitlyn.
4 factors that should inform your talent acquisition team's recruitment plan for 2023
Of course, you need to evaluate and address more than just your people and processes to create a highly effective recruitment plan for your team for the year ahead.
You must also determine if your existing applicant tracking system can help your team better identify and engage candidates efficiently and effectively and streamline your recruiters' work.
This increased investment isn't just to help TA leaders empower their teams to recruit smarter.
Paradox VP Client Advocacy & Marketing Josh Secrest told SHRM recruiting tech "plays a crucial part in why the best recruiters stay in their role and why they also might look elsewhere."
With that in mind, here are four tech-related considerations for your 2023 recruitment plan that will impact how well your team connects with and converts high-quality candidates.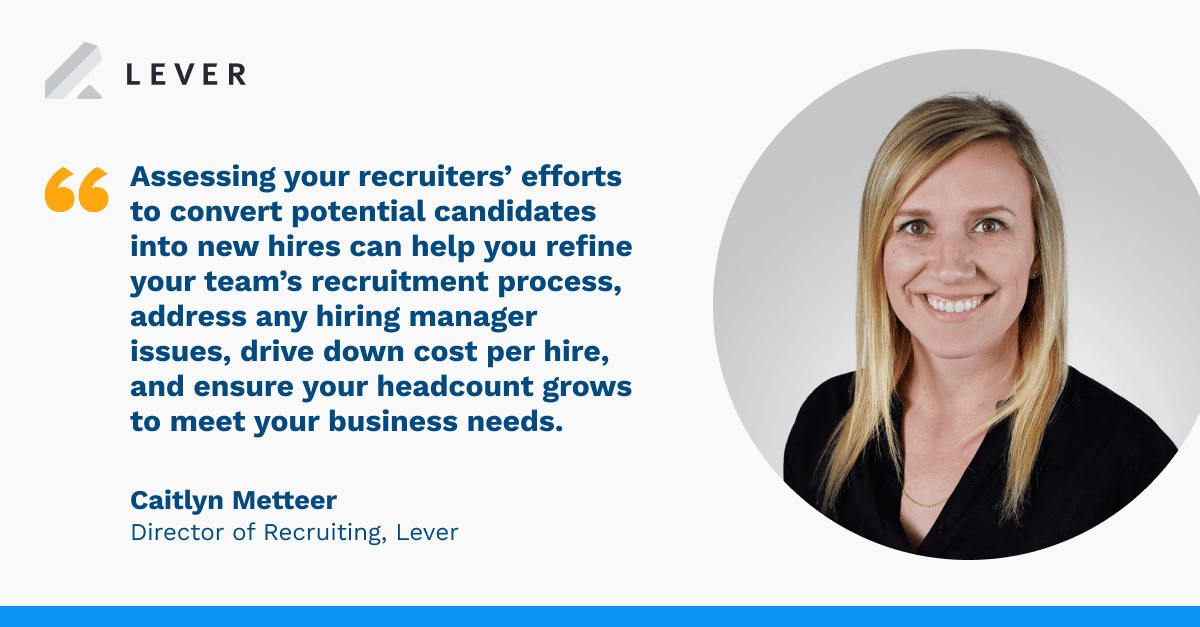 1) Audit your entire talent acquisition tech stack
A 2022 Talent Board report found one-quarter of talent leaders said their standalone ATS doesn't easily connect with other recruiting tools in their tech stacks. More than one-third of TA leaders are also concerned their tools won't sync with their ATS because it's a legacy offering.
Want to avoid ending up like these talent leaders? Make upgrades to your tech stack (perhaps an old-school ATS) a primary focus with your 2023 recruitment planning.
Some key questions to ask about your TA tech stack during an audit include:
Does your ATS offer robust, easy-to-use CRM capabilities?
Is your candidate data centralized in your ATS, or is it stored in multiple systems?
Can your recruiters easily and quickly find the info and data required to succeed daily in your ATS (e.g., details on active and archived candidates, pipeline insights)?
Do other essential tools (e.g., background check tools, team collaboration platforms) and the most popular job boards directly connect to and share key data with your ATS?
Does each team member have a custom data "view" in your ATS (e.g., recruiter operations dashboard for talent ops managers, team overview dashboard for talent leaders)?
Talent analytics is an important element of the modern TA tech stack.
"Data-driven recruiting is now table stakes for all talent teams," said Caitlyn. "Fail to provide your recruiters with an intuitive and advanced TA analytics solution, and you won't be able to compete for talent at the level desired by your C-suite and hire highly qualified candidates."
2) Assess every aspect of your full-cycle recruiting
Securing the right TA tech is vital. However, your recruiters need to make the most of their central recruiting solution to effectively advance candidates through their funnel.
As a talent leader, you must assess their progress (or regression) in areas including:
Sourcing: Evaluate your sources and source origins (e.g., organic job board posts, paid ads and InMail). Lessen reliance on "weak" sources and prioritize "strong" ones.
Job postings: Ensure your job listings have inclusive language, spotlight your company culture and employer brand, and feature engaging copy. Also, adjust job descriptions in postings that tend to generate few applications.
Nurturing: Analyze your nurture engagement data. Look at open, reply, and conversion rates for emails (and, if applicable, texts) your team sent to candidates in 2022.
Interviewing: Address any interview process issues. For instance, eliminate or shorten any interview stages you deem took too long to complete, on average, last year.
Workflows: Adjust recruitment automation workflows in your primary recruiting software to ensure each recruiter's work is highly streamlined and structured.
"No full-cycle recruiting strategy is perfect," said Caitlyn. "But regular, data-backed alterations to your team's daily activities and recruitment model at large can help you consistently improve core metrics tied to your team's speed, quality, efficiency and productivity."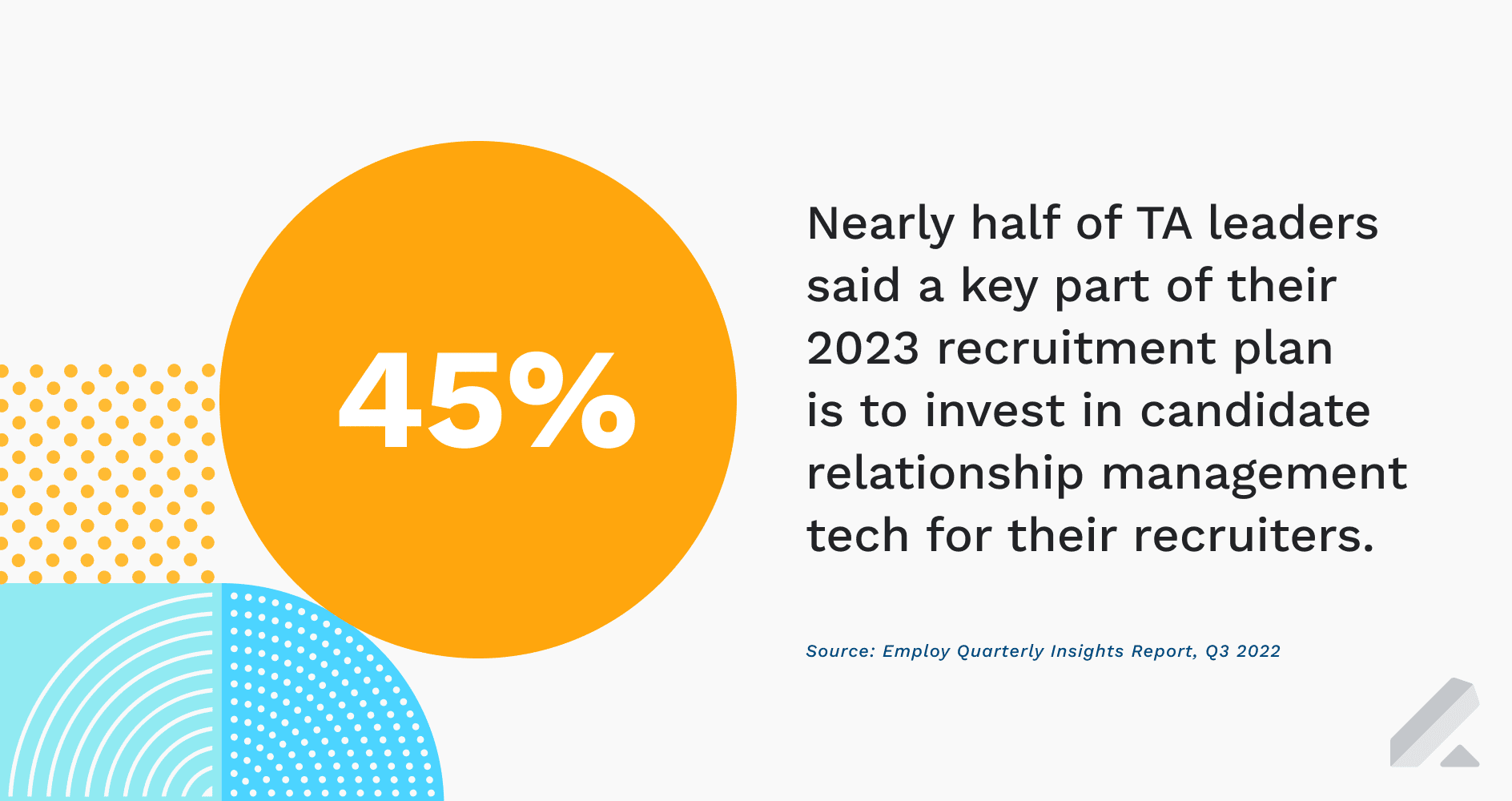 3) Chat with HR, your C-suite, and hiring managers
These three stakeholders can offer invaluable insights you can use to build your recruitment plan. The key is proactively engaging them to secure the data, info, and preferences that will inform your TA resource allocation in 2023.
Speaking with these hiring team members and executives ultimately helps you:
Understand which business units and locations are top priorities in 2023 in terms of headcount growth: The more information about your company's specific hiring needs you can get from your CEO, CRO, CHRO, and other business leaders, the stronger your recruitment plan will be.
Gauge hiring managers' satisfaction with your recruiters' efforts to fill roles over the past year: These chats will help you learn if they were happy with new hires and if they thought the average time to fill for open positions aligned with their timeline expectations.
Get insights on skills gap analysis your HR team and leadership team conduct: This analysis typically takes frequently year-round. But many C-suites and CHROs tend to conduct an end-of-year skills gap analysis to identify immediate role- and team-based needs companywide.
"Dedicated one-on-ones with these business leaders and people managers will take time," said Caitlyn. "But the insights you will glean from these discussions will prove more than worthwhile to your recruitment planning."
4) Keep your entire recruiting staff in the loop
Don't forget to share your ultimate recruitment plan — including changes to tech they'll have to use in the year ahead (and related processes) — with your recruiting staff.
"You likely already schedule time at the end of the year to go over insights tied to your recruiting performance and hiring data with your team," said Caitlyn. "Use this time to also explain what will change in the year ahead in terms of your tech and recruiting processes.
Caitlyn added this transparency can instill more trust in your recruiters, who will understand why you're making changes to the way they work and how those changes will help them improve their output and achieve KPIs.
Note who will teach recruiters how to use new tech and who TA specialists should turn to internally (e.g., talent operations, IT) and externally (e.g., your ATS vendor's support staff) when they need guidance on how to best use the tech.
"This hands-on guidance and education will ensure your entire team hits the ground running with your new platform of choice from day one of implementation," said Caitlyn.
Watch our webinar to learn how you can build a data-driven recruitment strategy along with your HR team to ensure you hire smarter, faster, and more efficiently in 2023.