Want to find the perfect candidates without the risk of unsuitable (for example, full-time or unavailable) candidates clogging up your search results?
Here are the three key steps to remember:
Brainstorm the words that contractor may use eg, temporary, contract, contracting, interim, secondment, etc
Combine these keywords with your preferred job titles for high-quality results
Now search their availability by searching headline: "currently available" and you'll have a list of superstar candidates who are ready to start work!
Get the most out of LinkedIn by thinking outside the box when it comes to searching for contractors. Watch this video to learn how to navigate the challenges of finding talented candidates for temporary or contract roles.
<span data-mce-type="bookmark" style="display: inline-block; width: 0px; overflow: hidden; line-height: 0;" class="mce_SELRES_start"></span>
We have a video library that is packed with tips to help you find the best people before anybody else.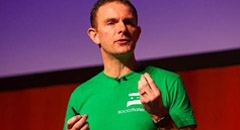 SocialTalent Recruiter Academy
A full library of videos that can help your team transform their hiring process