What is an HR dashboard?
An HR dashboard is a tool used by Human Resources teams to visualize, track, analyze, and report on relevant data and KPIs. Today's HR dashboards are created using specialized HR analytics software designed to leverage advanced technology for this specific purpose. HR dashboards allow HR professionals to explore important data, discover insights, and optimize their workflow.
Examples of top HR dashboards
HR dashboards can be customized for whatever purpose they are needed. Below, we review some common HR dashboard ideas.
HR executive dashboard
HR teams can use HR executive dashboards as a general overview of data related to all core HR processes and tasks. They offer a bird's-eye view of a company's overall health and progress.
KPIs included in a sample HR dashboard of this type include:
Number of employees by role
Number of employees by location
Employee gender ratios
Employee turnover rate
Average salary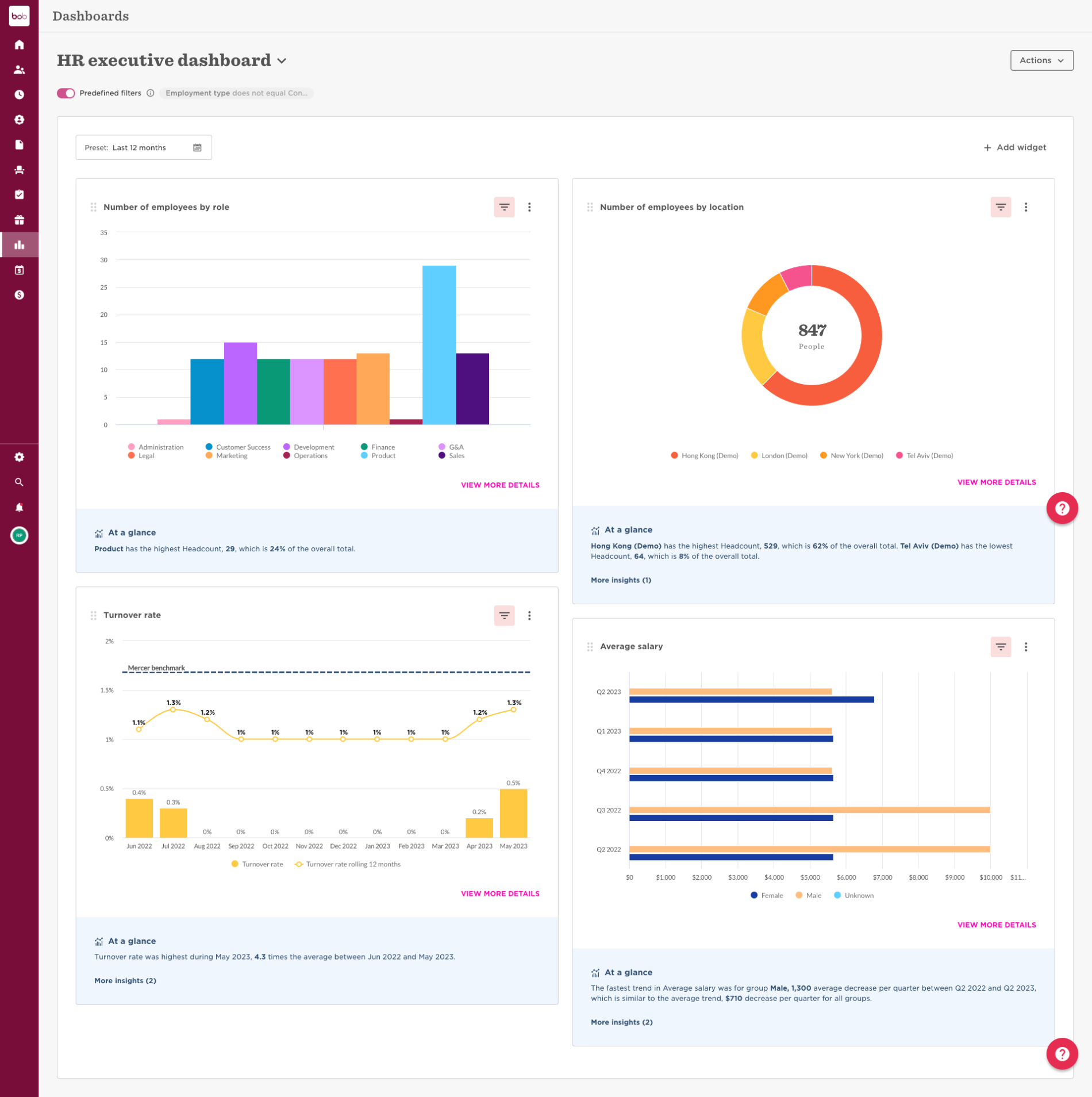 Employee development dashboard
An employee development dashboard is used for people analytics and helps HR professionals track training, growth, and development data. These dashboards include training program metrics such as completion percentage, hours, and cost, which can be viewed through parameters such as employee demographic, department, team, and training module.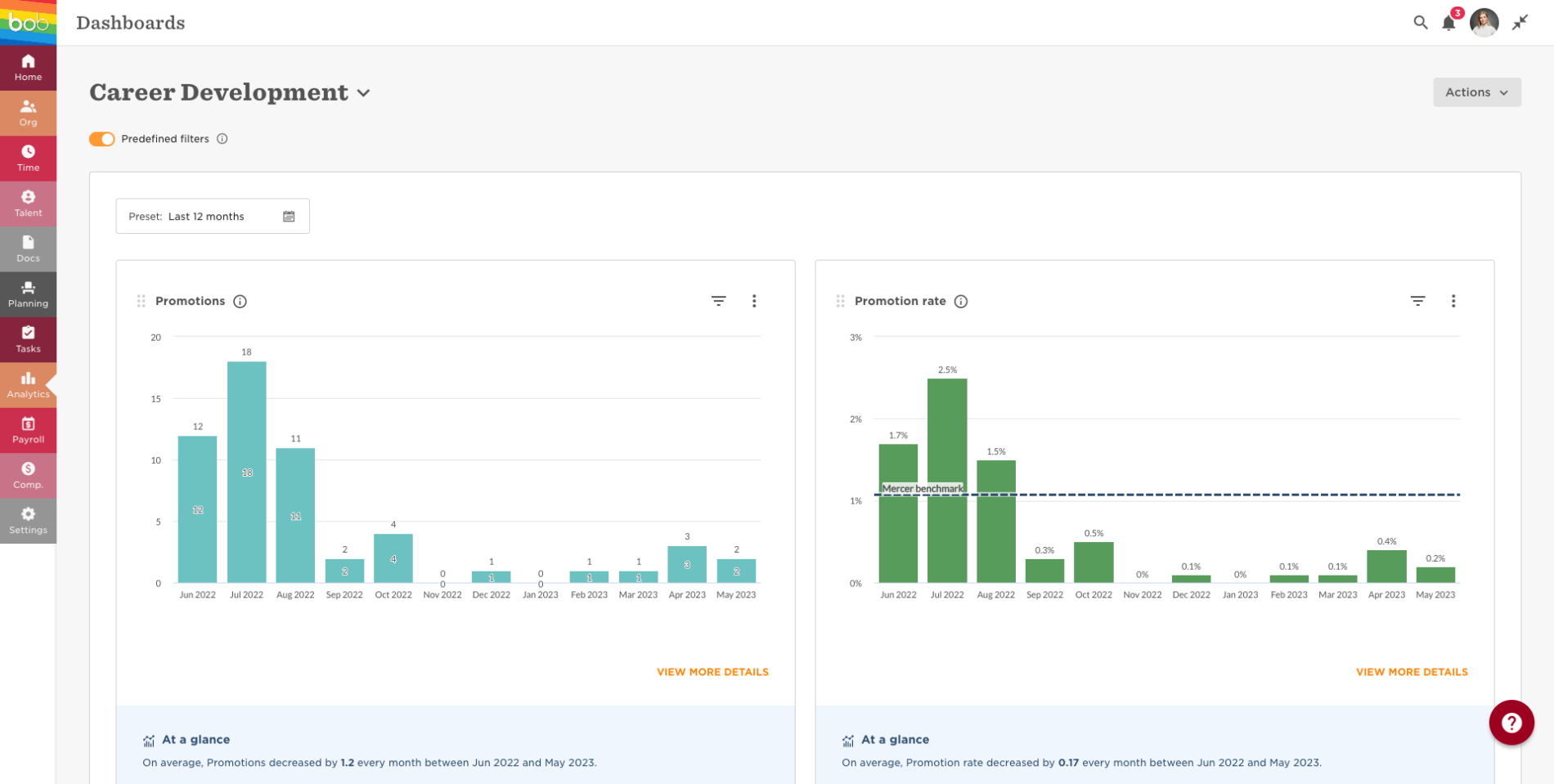 Employee performance dashboard
An invaluable dashboard around yearly performance review time, an employee performance dashboard is used to help managers track their team's and individual people's performance. This type of dashboard includes sales figures, customer satisfaction ratings, progress toward goals, and so on. It may also include figures like people's salary and tenure.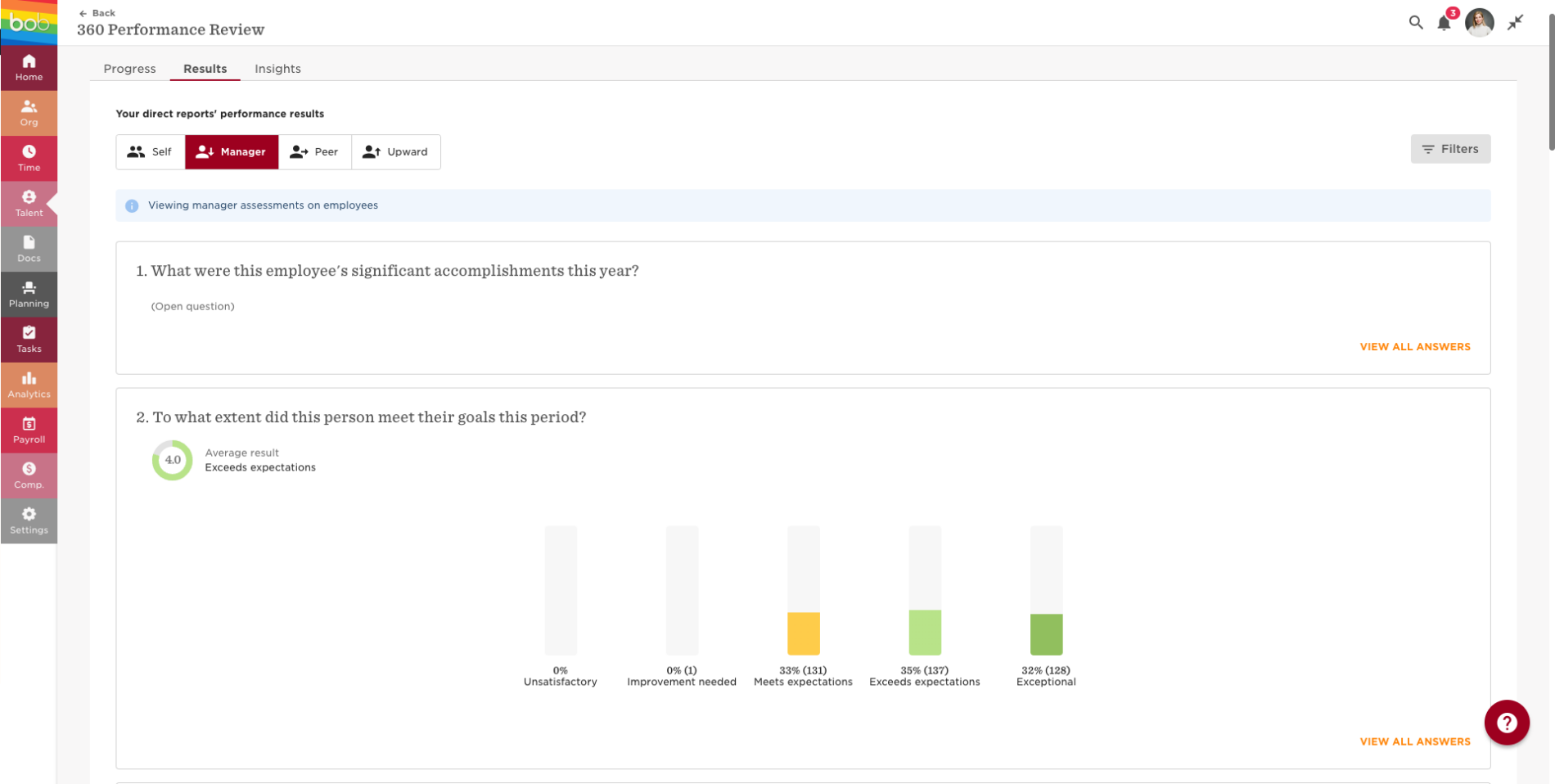 Diversity dashboard
As more and more organizations commit to promoting diversity and inclusion, diversity dashboards have become increasingly crucial, representing important data about the state of a company's workforce diversity. Diversity dashboards include metrics related to the recruiting, hiring, and retention efforts of people of various ages, genders, races, and more.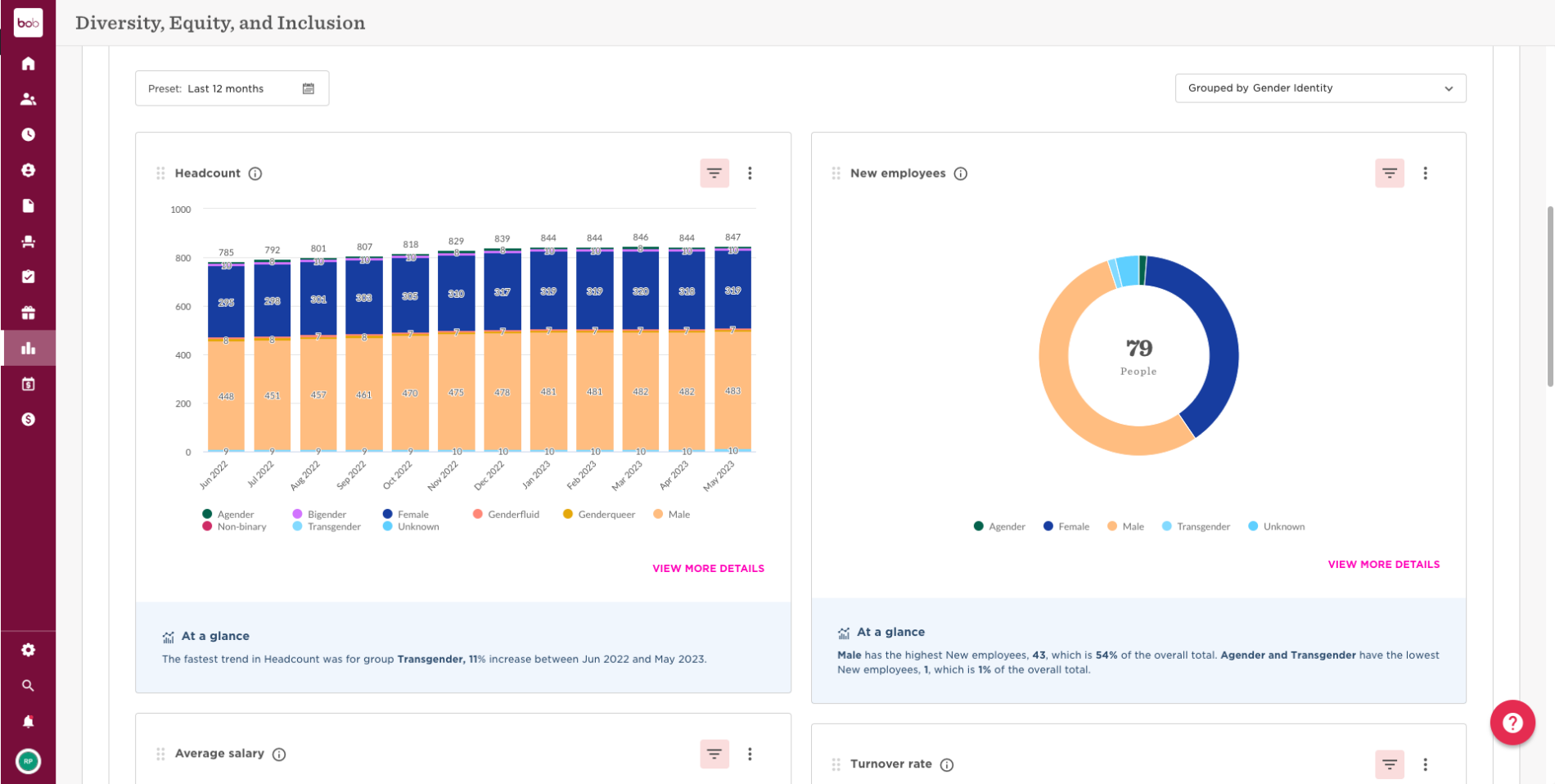 Recruiting dashboard
A recruiting dashboard is an essential tool for use in the hiring phase of the employee lifecycle, presenting important data to help HR determine whether they are getting sufficient ROI on their recruitment efforts. 
This type of dashboard will include KPIs such as:
Number of open jobs
Number of applicants 
Number of recent hires
Status of the recruitment funnel
Offer acceptance rate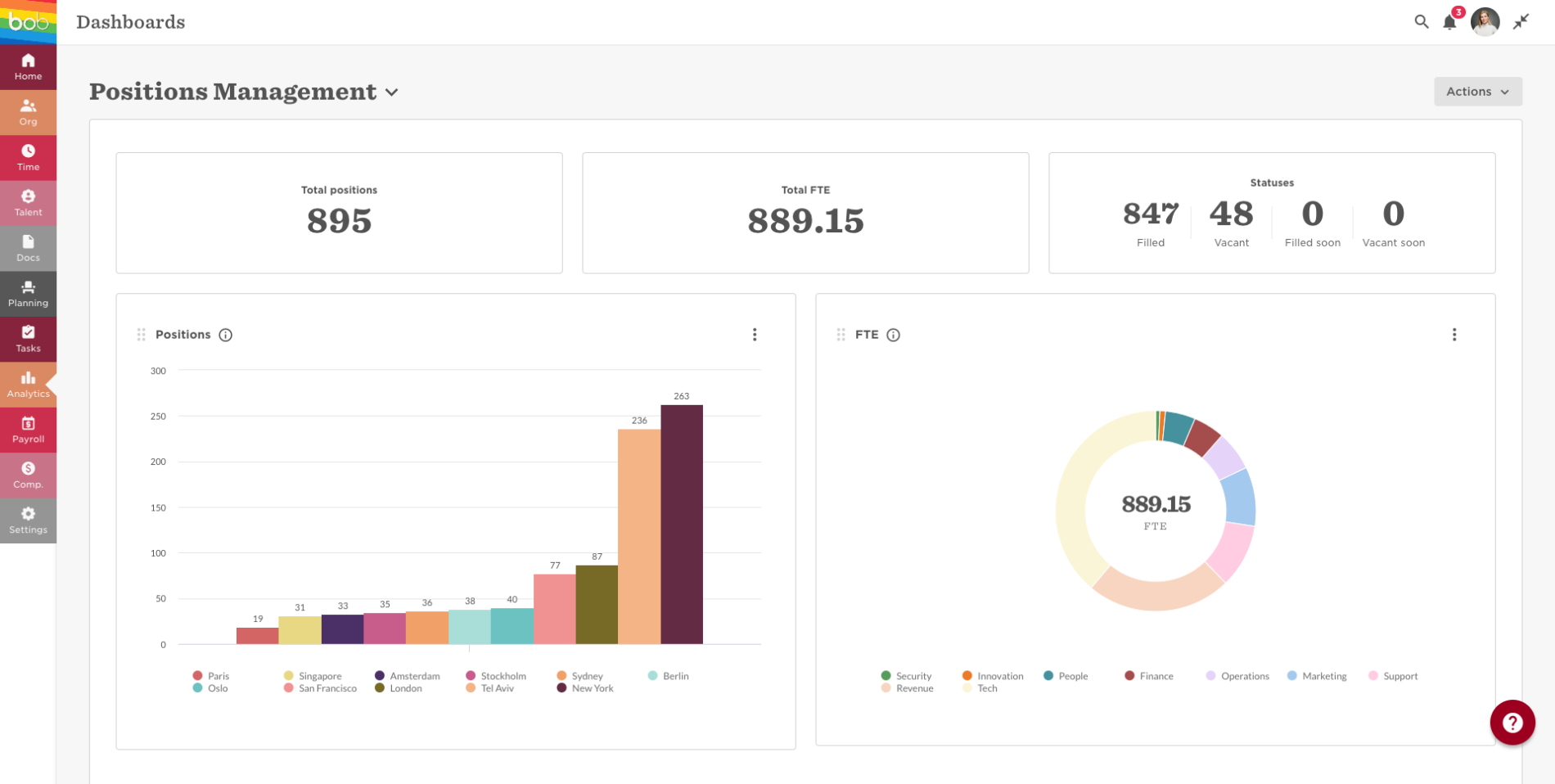 Turnover dashboard
HR can use turnover dashboards to dive deep into questions related to attrition and retention. Turnover dashboards also provide essential data about how successful companies are at retention.
Relevant KPIs include:
Turnover rate
Turnover rate by demographic 
Turnover cost per person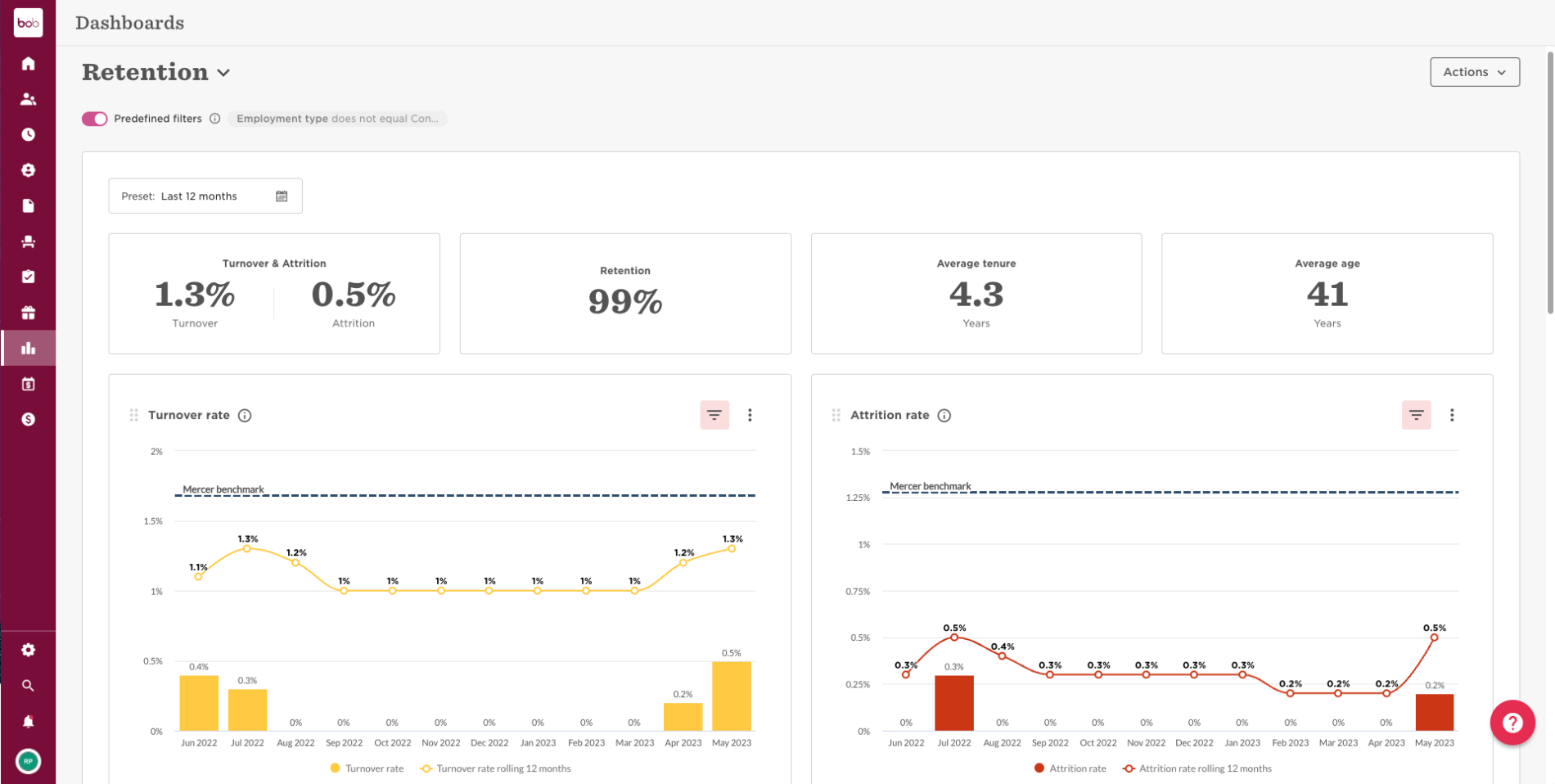 Recommended For Further Reading
HR dashboard ideas and best practices
Organizations that don't use HR dashboards may find it helpful to review HR dashboard templates and employee dashboard examples for inspiration. You'll find that the most successful HR dashboards utilize the following best practices.
Start small. HR dashboards are incredibly powerful tools, and it can be exciting to introduce them to your HR team. But resist the urge to jump in headfirst by building out dozens of dashboards full of complex data. Instead, start small with the dashboards you need most and slowly add more as your team adjusts to using this tool.
Introduce dashboards to your daily routine. The value of dashboards lies in their ability to offer real-time data and the insights that come with it. But they won't be helpful if you don't check them very much. Once you've set up your dashboards, plan to integrate them into your daily workflow and check them frequently, monitoring KPIs and taking action accordingly.
Don't be afraid of change. If a dashboard isn't working for whatever reason–it's too complicated or contains irrelevant metrics–don't hesitate to change it. Your dashboards should work for you, and if you've chosen a good dashboard platform, it should be easy to adjust them as necessary.
Choosing the best platform for your HR dashboard needs 
Speaking of a good dashboard platform, one of the first–and most important–decisions you'll need to make when getting started with HR dashboards is choosing which provider to work with. Some features to look for include:
Customizability. Choose a platform that allows you to create custom dashboards to meet your organization's unique needs.
Ease of use. Because you'll be using them often, it's important to pick a provider whose dashboards are interactive, visual, and easy to use.
Analytics. With the power of modern technology, HR dashboards can do more than just present data: They can also analyze it for you and mine it for insights.
With the right partner, you'll be able to get started benefitting from HR dashboards in no time.
---