Times have been tough. Between an impending economic downturn and tightening headcount, talent teams have had to turn to industry thought leaders to understand what's next.
And while TA leaders like you are researching the latest macro factors impacting your job, you're also turning to content that teaches or reinforces best recruiting practices so that you can still build candidate relationships and be more intentional about hiring in the next year.
Lever understands the challenges that companies and talent teams are experiencing today.
To help your recruiting team stay sharp in a soft market, we've compiled a list of the most impactful Lever blog posts we published in 2022 that can help you shape your talent acquisition strategies and tactics in 2023.
DEI, quiet quitting, preventing ghosting and more: Top topics featured in Lever's 2022 recruiting blogs
The blogs below aren't necessarily the most popular from 2022. Rather, these are posts that "clicked" with our audience and sparked conversations around some of the biggest trends and topics that have affected (and continue to affect) talent leaders and their teams.
From ongoing investments in diversity, equity and inclusion initiatives to proactive efforts to prevent candidates from departing the recruitment process, the subjects of these blogs resonated with TA and HR professionals at companies of all sizes and across industries.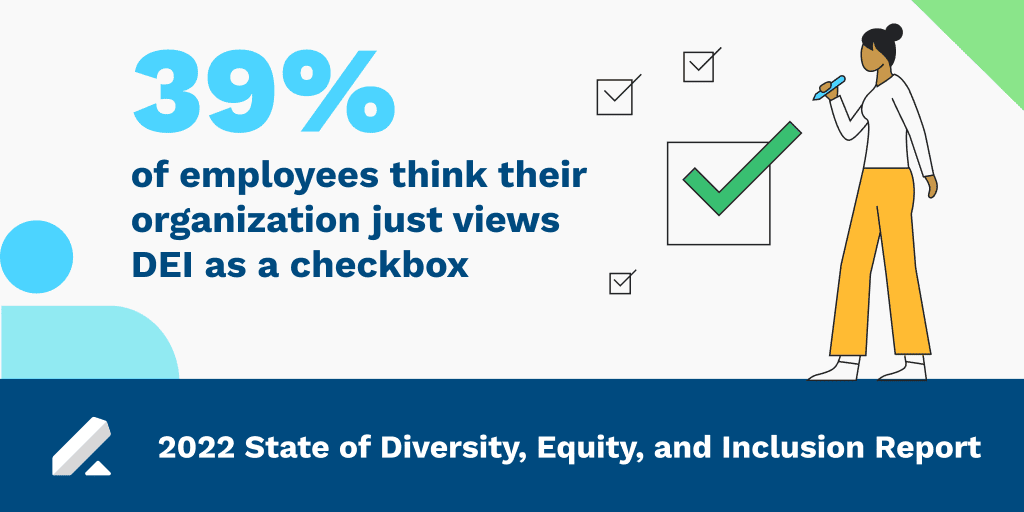 1) Maintaining Your Focus on Diversity In The Workplace
Staying up-to-date on DEI best practices and trends was already overwhelming for many execs. Doing so became even more difficult for them, as they had to prioritize other pressing business matters (i.e., staying afloat, avoiding layoffs) amid economic headwinds in 2022.
But, as our recruiting blog explains, that's still not enough reason to deprioritize DEI. A "down" period is an opportune time for CEOs to double down on their DEI efforts to continue improving their company culture and stand out to top talent.
"The more people in your organization whose passions you can tap into with these DEI partnerships in which you're investing, the more protected that DEI budget is from being sidelined by other priorities or by economic instability," Attentive Chief of Staff for Recruiting Cierra Tavarez shared at Accelerate22.
2) Preventing 'Ghosting' with Smart Candidate Nurturing
"Ghosting" is something you may expect from a blind date or a "friend of a friend" who said they'd come to your next party. Now, though, it's something countless companies (unfortunately) experience with job candidates.
A Robert Half survey found 39% of senior managers saw an increase in candidate ghosting (i.e., skipping interviews, ignoring offers) in 2022 compared to 2020.
Our recruiting blog breaks down why passive candidates ghost would-be employers and what your team can do (see: timely, personalized communications) to prevent active opportunities from exiting your recruitment process.
3) The Great Rehire and Candidate Expectations in 2022
The Great Resignation may be slowing down, as 2022 winds down. And, as noted, disruptive external conditions have hindered many companies' hiring efforts for the foreseeable future.
However, as our blog outlines, it's still vital for talent teams to understand what qualified candidates want from employers today. This level of clarity ensures they can connect with and convert those job seekers and meet their wants and needs (e.g., flexible work options, focus on DEI, internal mobility).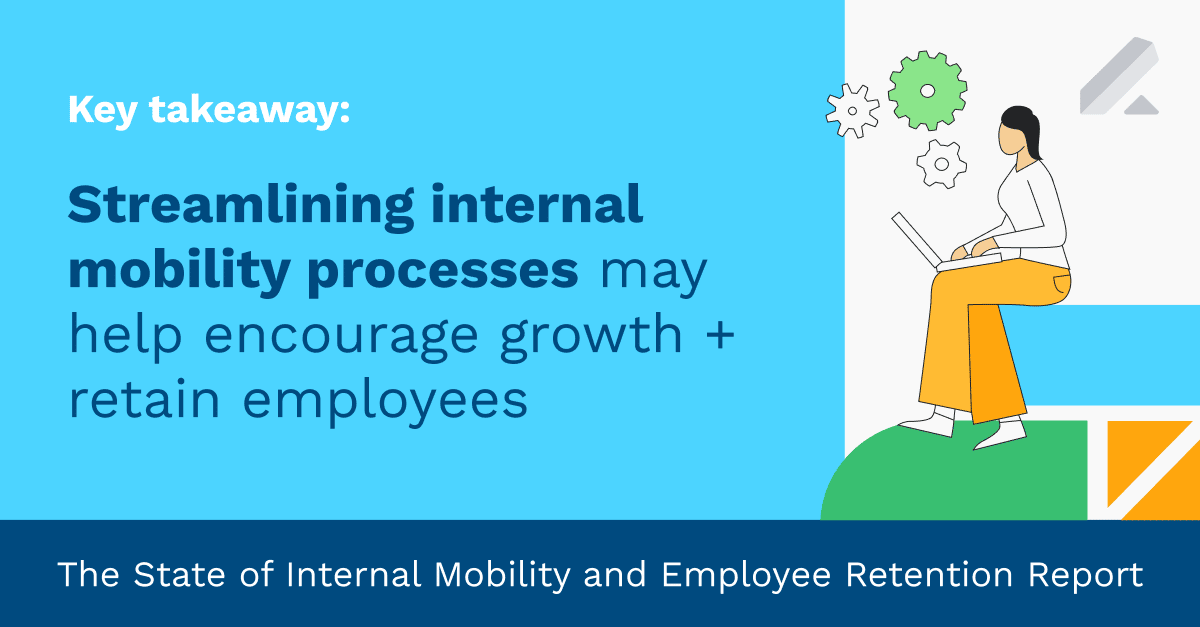 4) Are You Preventing or Pushing Quiet Quitting?
One of the more confounding TA-related trends of 2022 was quiet quitting: employees' act of doing the bare minimum on the job and never going above and beyond in their roles.
More than half of HR professionals and one-third of people managers told SHRM they were concerned about the potential negative ramifications quiet quitting could have on their workforce engagement, communication and productivity.
Our blog can help you discern whether or not actions by your C-suite and people managers are contributing to high rates of quiet quitting (and, in turn, low output and morale).
5) 2023 Recruiting Trends All Talent Teams Should Know
Accelerate22 featured many informative discussions with TA experts and influencers on the latest recruiting trends: from DEI, to internal mobility, to retention.
These trends aren't just ones talent leaders should know heading into 2023. They're also ones TA directors must factor into their annual recruitment strategy planning.
There are five main takeaways from our virtual conference that can help business and talent leaders improve the mental health of their workforce, make further progress with their DEI initiatives, and — in the case of talent acquisition leaders — learn how to keep their seat at the table with other high-level decision-makers.
6) 3 Diversity Recruiting Strategies to Inspire Your Team
One facet of DEI talent teams must continually refine is their diversity recruiting efforts.
This blog post highlights how three Lever customers built distinct diversity recruitment programs that help them identify, engage, and hire candidates from underrepresented groups and showcase their DEI-related progress internally and externally.
For example, Lever customer Ritual ensures its job postings feature inclusive language and interview panels feature members of different diversities and backgrounds to provide an equitable, end-to-end recruitment process.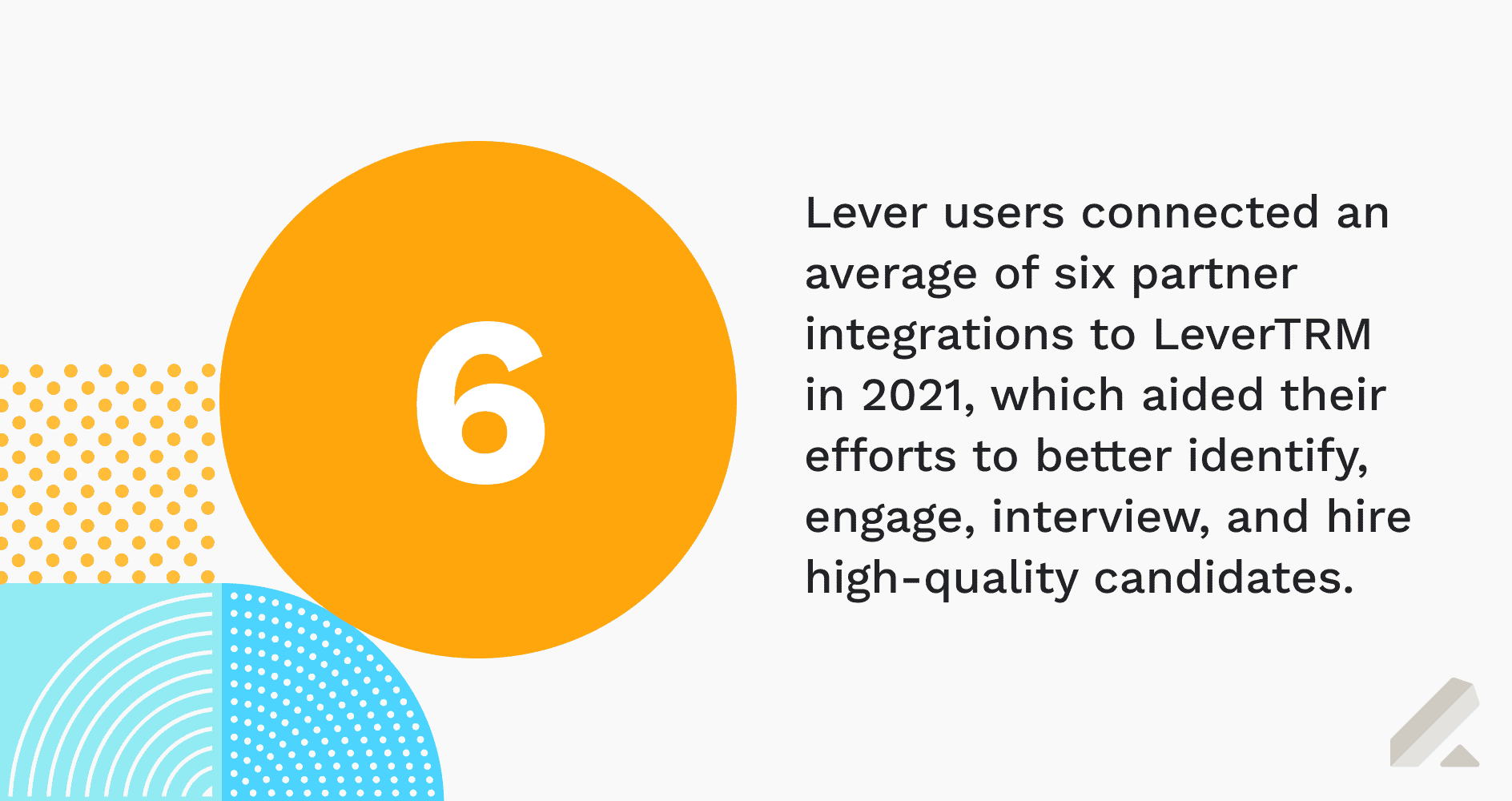 7) 15 Helpful Recruiting Tools for Talent Acquisition
Your primary recruiting technology enables you to executive effectively and efficiently in your day-to-day. But there are certain external tools recruiters need to connect to their main TA tech to streamline and speed up certain activities — including joint tasks with their HR teams.
This recruiting and HR blog spotlighted several tools that sync directly with Lever's vast (and growing) integration partner ecosystem. These tools help talent teams with our TA suite better collaborate internally and communicate with qualified candidates in a timely, personalized way.
We explain why these robust recruiting tools — from talent-sourcing solutions to candidate assessment platforms — are must-haves in modern TA tech stacks.
8) Setting Smart Recruitment Goals for Your Talent Team
Truly transformational talent leaders don't just "set and forget" broad objectives for their recruiters. Instead, they set ambitious but realistic KPIs that align with overall business goals tied to revenue and headcount growth.
This blog implores talent leaders who are planning their 2023 recruitment strategies to set goals for their teams at large and individual recruiters that are SMART: specific, measurable, achievable, relevant and time-based.
According to the blog post, talent acquisition directors can craft clearly defined objectives and KPIs following conversations with their CEO, CHRO and hiring managers.
9) 5 Expert Tips for Recruiting for a Hybrid Workplace
We're almost a few years into the pandemic-altered business landscape in which hybrid work environments have become the norm for numerous companies worldwide.
However, it's never too late to learn best practices tied to establishing a hybrid workplace and related recruiting strategy that satisfies job candidates' and existing employees' desires to split time working remotely and at the office.
10) How Talent Acquisition Teams Leverage Visual Insights
Talent leaders increasingly understand the importance of talent analytics — and, more specifically, data-driven recruiting solutions that offer real-time, actionable insights — to their teams' and companies' success.
However, many TA leaders don't know the difference between legacy, standalone recruitment databases and complete TA suites with robust analytics and powerful CRM capabilities all in one solution — and why the latter is the more proven and sustainable option for their teams.
Our explanatory blog on Visual Insights, the out-of-the-box analytics built into LeverTRM, details the dozen-plus dashboards in our native ATS and CRM solution.
The post notes how Lever customers use the always-up-to-date data regarding prospects' status in their pipeline, the diversity of their talent pools and active opportunities, and other facets of their TA efforts to refine, streamline and speed up their recruiting processes.
We hope this list of recruiting blogs helps you build out your 2023 strategy and empowers your team to take on challenges they will face in the coming year.
Learn how our talent acquisition suite can help you and your TA org achieve your hiring and growth goals in the year ahead. Chat with our team today.