HR reports are an essential part of understanding and optimizing the employee lifecycle. Recruiting reports, in particular, can provide valuable insights into how to improve the employee experience and employer branding.
According to GEM, candidate outreach data is tracked by 87% of talent professionals. Whereas 43% of automated solutions follow open, click, and reply rates for them.
However, some HR reports need to be updated and could be improved by collecting additional data at the recruiting stage.
By doing so, companies can better understand what attracts and retains employees, make better decisions about their recruitment strategies, and share this reporting with cross-functional teams like hiring managers.
Read on to learn more about the five HR reports you need to inform data-driven recruiting today.
Use the EEO HR Report to Understand Demographics
An Equal Employment Opportunity (EEO) dashboard is a powerful tool to help organizations foster a more inclusive and diverse work environment. For example, Lever's EEO dashboard provides detailed information on the demographics of candidates in an organization's pipeline and archive, helping to identify areas where the candidate pool may need more diversity.
EEO data can be beneficial for talent teams who are looking for candidates from different backgrounds who are looking to apply for open positions. This data can help identify potential employers committed to diversity and inclusion and who may be more likely to consider candidates from a wide range of backgrounds.
Additionally, this data can also help assess whether an organization is meeting its goals to diversify its workforce.
This view of your talent pool shows you if your team and company are making strides in sourcing and attracting diverse candidates and, if you still need to, what recruiting adjustments are necessary.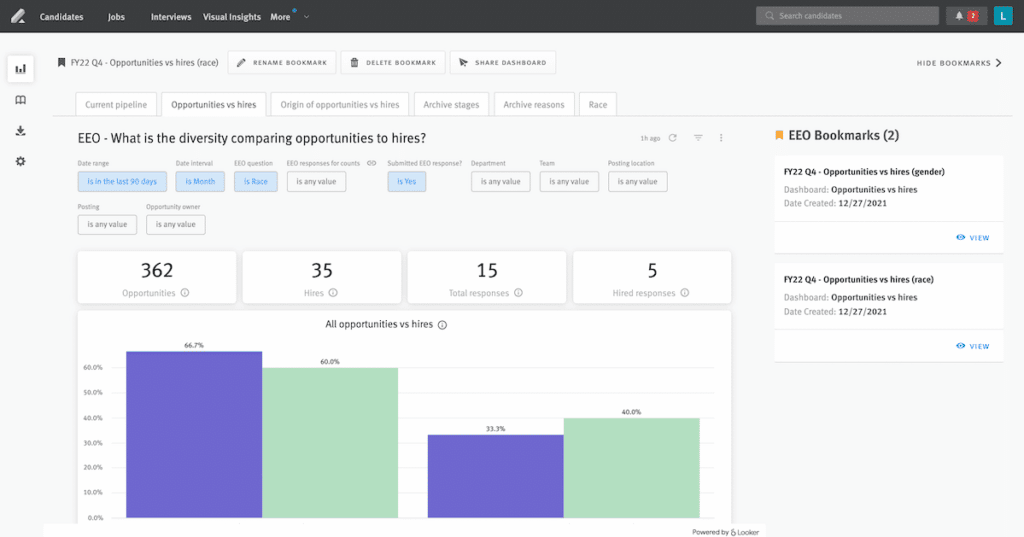 Leverage candidate experience surveys
Lever's candidate experience surveys dashboard, can give you insight into the sentiment of candidates in our talent acquisition pipeline. In addition, this dashboard allows you to run qualitative assessments of your recruitment procedures to ensure that your processes result in the best possible experience for candidates.
Having an HR report for candidate surveys helps your team to streamline your recruitment process from direct feedback. You can improve your CRM strategy by knowing how your candidates feel about your recruitment process.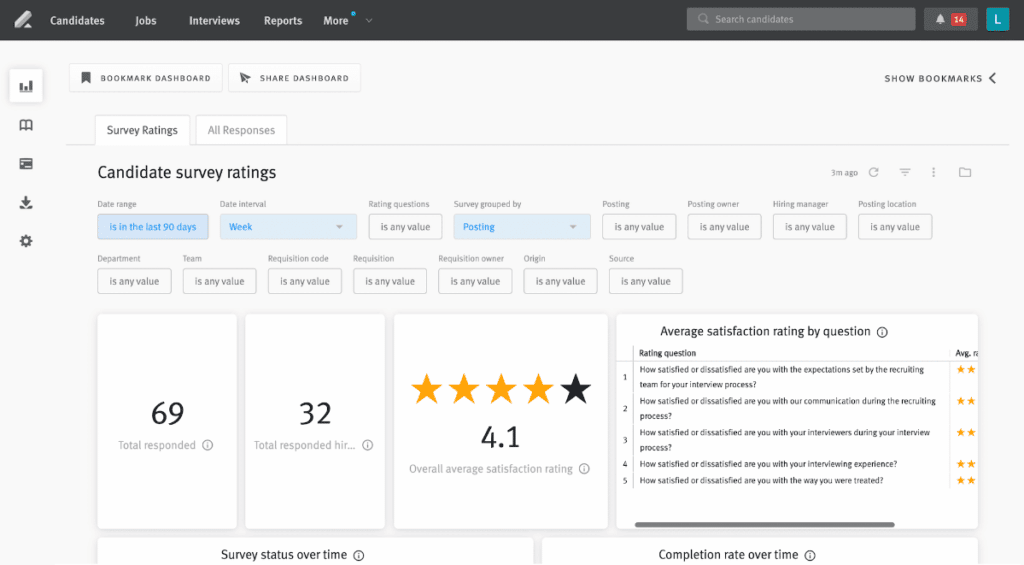 Sourcing HR reports helps the talent pipeline
You can use a sourcing dashboard to determine how candidates enter your talent pipeline and the quality of those channels based on their performance. A sourcing dashboard is useful in establishing the ROI of job market spending and identifying trends and changes in your recruitment funnel.
Ultimately, sourcing HR reports is a valuable tool for any business that relies on talent pipelines to source candidates. The information from the HR report can be used to adapt your strategy in order to better target the right candidates.
The sources on the Lever board include the following:
Single value charts
Tables
Sourced opportunities over time
Origin of opportunities and hires
Offer acceptance rate by origin
Origin quality
It also identifies trends and changes in your recruitment funnel. For example, if you notice a decrease in applications from one site, you can investigate why that may be and make changes accordingly.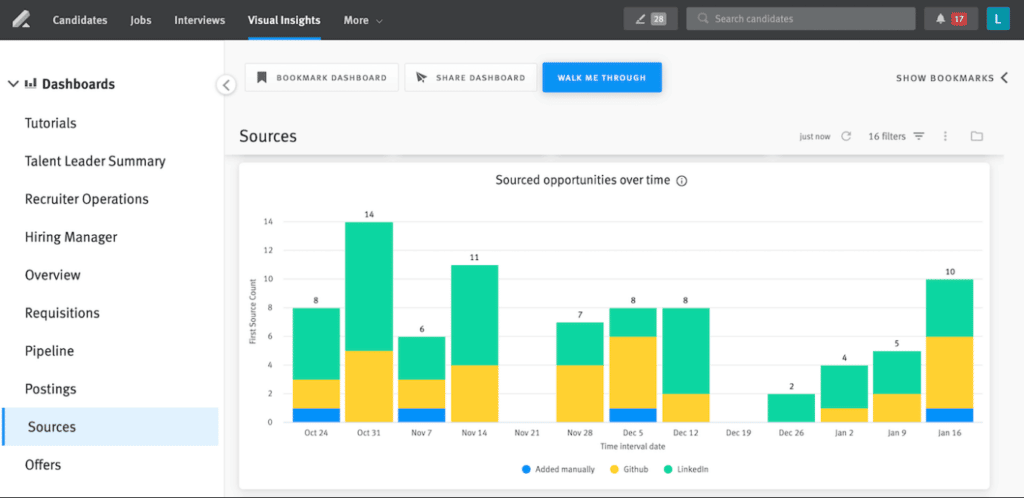 The Offers dashboard 
The Offers dashboard provides insight into key performance indicators related to the volume of offers extended to candidates and the acceptance rate.. You can optimize processes related to the offer phase of your talent funnel by identifying trends in offer generation, revisions, and time to accept.
Additionally, this information can be used to benchmark your organization's performance against others in your industry.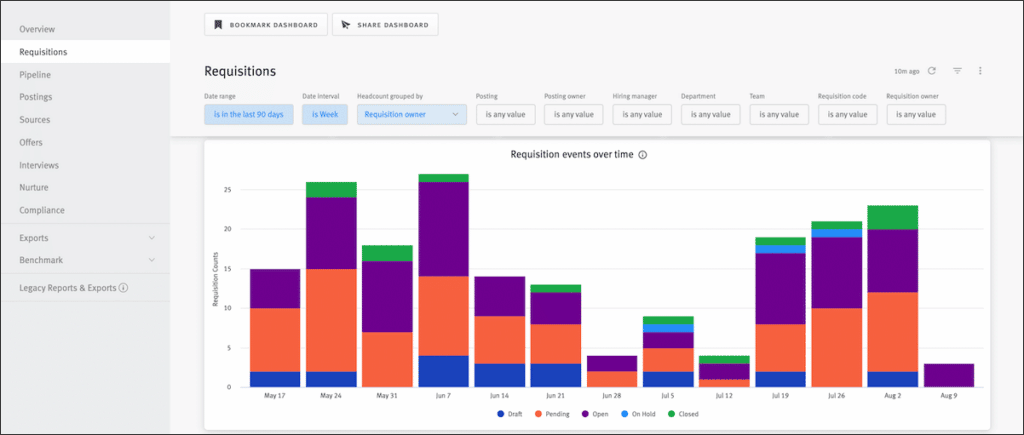 HR reports for hiring managers
With the hiring manager dashboard, hiring managers can monitor key metrics across their postings, requisitions, and pipeline – reducing the need for recruiters to gather information.
Using this dashboard, hiring managers can gain a deeper understanding of their recruitment processes, allowing them to target areas that need improvement and reinforce areas that perform well.
Looking at the data, managers can see where there are bottlenecks or delays. They can also identify which steps in the process lead to most candidates being rejected. They can improve their overall success rate by making changes in these areas.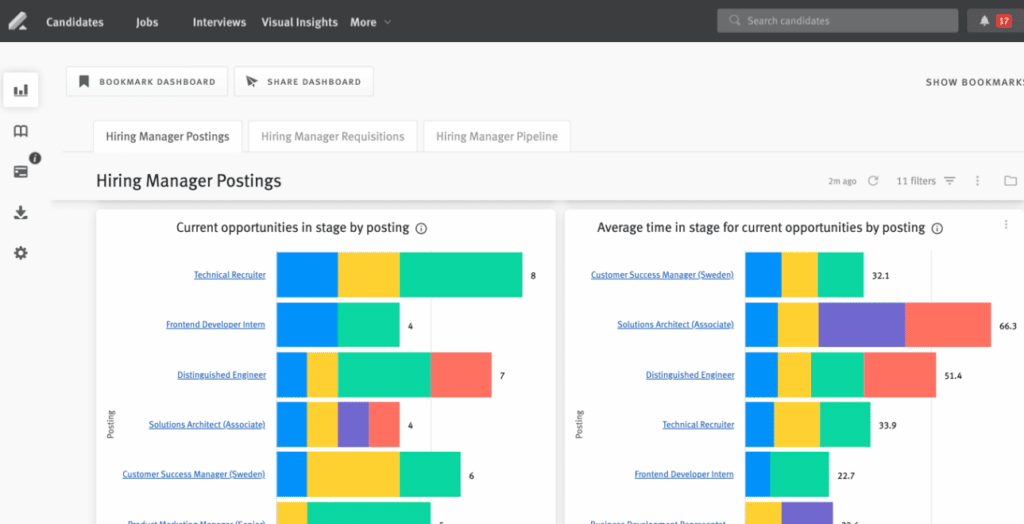 Start using HR reports today
Lever's Visual Insights offers a data-driven recruiting solution that helps organizations better attract and convert top talent. The tool provides HR reports that can help you make smarter hiring decisions, improve your team's performance and more.
With our Visual Insights, you can quickly identify patterns and trends in your data to help you make better decisions about your recruitment strategy.
Schedule a demo today to learn more about how we can help you transform your HR function.