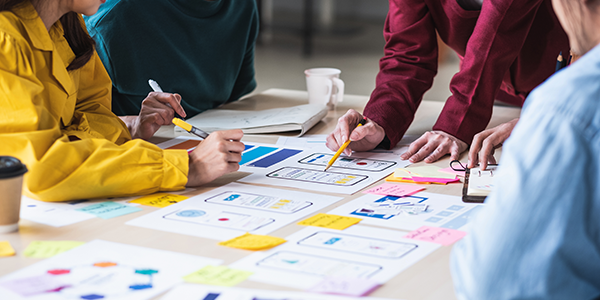 In 2020, the lines between work and home were blurred due to the Pandemic. Since then, this trend has been hard to correct, leading to employee burnout and "The Great Reshuffle". This has left marketing leaders with a big challenge of getting work done with fewer resources.

On August 25, our SVP of Solutions, Jen Iliff; Director of Studio Delivery, Suzanne Brazil; and Senior Client Engagement Manager, Matt Satzinger, sat down to discuss how some of our WunderLand clients are creatively managing the increase in the volume of their work with the same number of resources.
So, how do you meet the demand of an ever-changing MarTech space when turnover is high? At WunderLand, we strive to be the go-to partner for our clients and consultants. The staffing industry can be transactional, we aren't.
WunderLand approaches our partners and their needs as consultative. We offer solutions without the one-size-fits-all approach. We look at not just want our partners need, but how they want to and can manage those needs. There are a few different ways we can approach the work:
1. Traditional Staff Augmentation
It exists for a reason. Sometimes a typical staffing exchange is the best solution to a problem. Whether it be project work, direct hire, or temp to hire, this can be a great option and the best option. This approach typically needs to be longer project timelines with a team or leader who can manage a person(s).
2. WunderLand Studio
Marketing needs can sometimes be short-term. A great example of our Studio delivery model is our client who needed a PowerPoint updated quickly for an upcoming presentation. The timing was too fast for a staffing solution. Instead, our in-house, on-demand production team jumped in to manage the project and execute on the deliverable.
Our Studio team is equipped to help with everything from design, video, digital or web development to data management and automation. Everything is requested and delivered through our WunHub portal which allows our partners to see real-time updates without needing to be involved in the day-to-day.
3. Managed Projects
Managed Projects are an option for a team that doesn't have time to manage the resources that are needed for a project or an outsourced workstream, like content development, but still wants to have more involvement and oversight. We assemble a team that is led by a program director who manages the resources on your behalf and is the liaison with your team. This gives our partners the additional support to meet the needs of the work demand without the burden of managing another team.
How do we choose what works best? We first try to understand the work our partners are trying to accomplish, the ability and time they have to manage resources and their internal operating environment. We then use our flexible delivery model to provide solution options that can include one, two or all of our delivery options.
Click here to watch the full event. If you want to learn more about WunderLand, you can visit our website or reach out to our team directly!